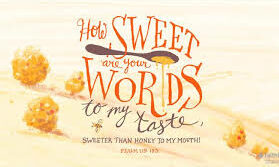 How Sweet are the Lord's Words !
The bible says in  Hebrews 11, verse 6;  "And without faith it is impossible to please God, because anyone who approaches Him must believe that He exists and that He rewards those who earnestly seek Him."   But just "believing" in God, isn't good enough.
The bible says in  John 8:24;  "I said therefore unto you, that you shall die in your sins; (that's Jesus speaking)   For if ye believe not that I am He, you shall die in your sins."   But  just "believing" that Jesus is the Christ, the Son of the living God, isn't good enough.    
The bible says, in  Hebrews 5, verse 9,  that Jesus,  "became the author of eternal salvation unto all them that obey him."   But even "obeying" Jesus, isn't good enough.
The bible says, that even believing AND obeying, isn't good enough!   Now you might think that that's not true, but it is 100% true.  You've heard me say numerous times, that there's only two things that God has ever demanded from man;  And those two things are faith and obedience.  But when I've said that, I've always assumed something else, that goes along with the faith and obedience.
I've always assumed that we all know, that sincerity of heart, and willingness of heart, and the desire of the heart, is also present.  Because if that sincerity, and willingness, and desire is not there, then your faith, and even your obedience, is vain!  It's just like faith, without works of obedience, is vain and dead.  That's what  James 2:17  tells us;  "Even so faith, if it hath not works, is dead, being alone."   But  verse 18  tells us;  "Yea, someone will say;  You have faith and I have deeds. Show me your faith without deeds, and I will show you my faith, BY my deeds!"   How would you go about showing someone that you have faith, without showing them some deeds?  It can't be done!  Just go ahead and try to show someone your faith, without any "works" of faith;  In other words, without obeying God!  
Verse 26  tells us;  "For just as the body without the spirit is dead, so also faith without works is dead."    But what I want you to also understand, is that faith and obedience, is still dead, if those two things are not done with sincerity of heart, and with willingness of heart, and with the desire of the heart, to please God.  
But you might want scripture to back up that claim.  And so I'll begin with  Mathew 22:37,  in which Jesus tells us;  "You shall love the Lord your God, with all your heart, and with all your soul, and with all your mind."   With all your heart, with your entire being, and even with all your mind.  Right?  That's the acceptable way to love God.  I don't think that anything short of that, is really love, do you?
And then of course there's that next greatest commandment, that Jesus says is "like unto it"..  "You shall love your neighbor as yourself."   Mathew 22, verse 39.   How do you love yourself?  Do you do it half-heartedly?  Or begrudgingly?   No, I'm pretty sure you put your whole heart into that.  
Remember that verse that talks about how we should give?   2 Corinthians 9, verse 7  says;  "Every man according as he purposeth in his heart, so let him give; Not grudgingly, or of necessity:  For God loveth a cheerful giver."  Well, it's the very same way with all of our love for God, and our love for His word.  Even if we believe his word with all our heart, and with no doubt at all, do you think that God want us obeying His word simply because we think we have to?  Not because we want to, but just because we think we have to?  Do you think God wants us to be "begrudging" everything we do for Him?  Of course that's not what God wants.  He wants us to WANT to obey Him.  He wants us to willingly serve Him.   God wants our obedience, to be OUR desire.  He wants it to be what WE live for.
That's exactly what Jesus lived for, wasn't it?  Isn't that exactly what He said, in  John 4:34?   Jesus said;  "My 'meat' is to do the will of Him that sent me, and to finish His work."  That's what Jesus lived for.  And that's also what Jesus died for!   And that's how God wants us to feel too!  Would you live for God?  Or better yet, would you die for God?   The apostles would, and they did!   Except maybe for John.  John sure lived for God, but as far as we know, he died a natural death.  He wasn't asked to literally die for God.  And we most likely won't ever be asked that either.  And so what we really need to be sure that we're doing, is living, as completely as we can, for God, and for Jesus Christ.  And their words need to dwell in us, richly.
Colossians 3:16   basically commands us, saying;  "Let the word of Christ dwell in you RICHLY, in all wisdom; Teaching and admonishing one another, in psalms and hymns and spiritual songs, singing with grace in your hearts to the Lord."  
In  John 4:23 & 24,  Jesus said;  "But a time is coming and has now come when the true worshipers will worship the Father in spirit and in truth, for the Father is seeking such as these to worship Him.  God is Spirit, and His worshipers must worship Him, in spirit and in truth."   Our body is just a "sacrificial vehicle" in which your spirit worships.  And  Romans 12, verse 1  tells us to  ".. present your bodies a living and holy sacrifice, acceptable to God, which is your spiritual service of worship."   Sacrifice your body, because God wants your spirit!
Psalm 119
So now I want to read to you a Psalm that deals with this very principle that I've been talking about.   It's  Psalm 119,  and it's the longest Psalm in the bible.  In my bible, it contains 176 verses, and take up six pages in my bible.  So maybe I won't read the entire Psalm, but I'll read parts of it.  And for a long as this Psalm is, I think there's really only two main subjects spoken of, in the entire Psalm.  And those two subjects are..  God's word, and our  willful obedience to it.
I'm going to read quite a bit from  Psalm 119,  so you might want to open your bibles and follow along as I read.  Now, concerning the subject of God's word, listen for these words..  Law, and ordinances, and precepts, and testimonies, and judgments, and the way, and statutes, and commandments, and then simply.. the word.
And concerning our obedience to God's word, listen for the words..  Seek, and walk, and observe, and keep, and respect, and meditate, and declare, and delight.  We need to delight in God's word so fully, that we seek it constantly, and walk in it and observe it constantly, and keep it and respect it, and meditate in it, and so that our everyday behavior, declares it!
Let me read these verses before we get into the Psalm;  It's  Deuteronomy 6, verses 5 thru 9..  "And you shall love the Lord your God with all your heart, and with all your soul, and with all your strength.  These words I am commanding you today, are to be upon your hearts.  And you shall teach them diligently to your children, and speak of them when you sit at home, and when you walk along the road, when you lie down, and when you get up.  You shall bind them as a sign on your hand, and they shall be as frontals on your forehead.  You shall write them on the doorposts of your house, and on your gates."  (We've talked about the fact that there's a few houses in town, that have the words of God above their doors)
In other words, the word of God needs to be the absolute, utmost priority in our entire life.  Nothing ranks above, the word of God!   It needs to be "our meat".
So now, let me begin reading from  Psalm 119,  beginning from  verse 1;  "Blessed are those whose way is blameless, who walk in the Law of the Lord.  Blessed are those who keep His testimonies, and seek Him with all their heart.  They do no iniquity; They walk in His ways." 
"You have ordained Your precepts, that we should keep them diligently.  Oh, that my ways were committed to keeping Your statutes!  Then I would not be ashamed when I consider all Your commandments.  I will praise You with an upright heart, when I learn Your righteous judgments.  I will keep Your statutes;  Do not utterly forsake me."   (And God promises that He'll never forsake us, doesn't He?)  
"How can a young man keep his way pure?  By guarding it, according to Your word.  (Guard our way, according to God's word)  With all my heart I have sought You;  Do not let me stray from Your commandments.  I have hidden Your word in my heart, that I might not sin against You.  Blessed are YOU, O Lord;  Teach me Your statutes.  With my lips, I proclaim all the judgments, of Your mouth.  I rejoice in the way of Your testimonies, as much as in all riches!  I will meditate on Your precepts, and regard Your ways.  I will delight myself in Your statutes:  I will not forget Thy word!" (And I'd put an exclamation mark behind a lot of these statements.  I will NOT forget Thy word!  I rejoice in Thy testimonies!   I proclaim Your judgments!)  

"Deal bountifully with Your servant, that I may live and keep Your word.  Open my eyes, that I may see wondrous things from Your law.  I am a stranger on the earth;  Do not hide Your commandments from me.  My soul is consumed, with longing for Your judgments at all times."  (That reminds me of  Psalm 42, verse 1,  which says;  "As the deer pants for the water brooks, So my soul pants for You, O God")  (It won't be enough to simply believe in God;  Our soul needs to "pant" for God.  I would imagine that those souls who find themselves in hell, will be panting for God in short order.) 
"You rebuke the arrogant, the cursed who stray from Your commandments.  Take away reproach (that means any scorn) and contempt from me, (don't let me feel those things) For I observe Your testimonies.  Though rulers sit and slander me, Your servant meditates on Your statutes.  Your testimonies are indeed my delight; they are my counselors.  My soul cleaves to the dust;  Revive me according to Your word."
"I have told of my ways, and You have answered me; Teach me Your statutes.  Make me to understand the way of thy precepts: so shall I talk of thy wondrous works.  My soul melts with sorrow; strengthen me according to Your word.  Remove me from the path of deceit and graciously grant me Your law.  I have chosen the way of truth; I have set Your ordinances before me.  I cling to Your testimonies, O Lord; let me not be put to shame.  I shall run the way of Your commandments, For You will enlarge my heart.  Teach me, O Lord, the way of Your statutes, and I will keep them to the end." 
"Give me understanding that I may obey Your law, and follow it with all my heart.  Make me to go in the path of thy commandments; for therein do I delight.  Turn my heart to Your testimonies and not to covetous gain.  Turn my eyes away from worthless things (or vanities); Revive me with Your word.  Establish Your word to Your servant, As that which produces reverence for You.  Turn away my reproach which I dread, For Your ordinances are good.  Behold, I long for Your precepts; Revive me through Your righteousness.  May Your loving kindnesses also come to me, O Lord;  Your salvation according to Your word.  Then I can answer him who taunts, for I trust in Your word.  And do not take the word of truth utterly out of my mouth, For I wait for Your ordinances." 
So much of this sounds like a prayer to God, doesn't it?  We should take note of the kind of things that the Psalmist prays for here.  He prays for understanding, he prays for salvation, he prays for evil to be removed from his heart.  He prays for graciousness from the Lord, He prays to be revived when he's feeling weak.  He prays for total sustenance doesn't he?  We need to rely on God for everything!  
And I've only read 43 verses of this wonderful Psalm.  And there's still 133 verse left.  Why don't you go ahead and read the rest of it at home, and just take in desire that this writer had for the word of God.  How he treasure it in his heart.  How he relied on it.  How he depended on it.  How that the word was what built him up, how it emboldened him.  How it made him alive!
Maybe if we read things like this more often, maybe it will find a way into our hearts as well.  It's worth a try isn't it?   let me leave you with just one more verse from this Palm.  It's  verse 103;  "How sweet are Your words to my taste!  Yes, sweeter than honey to my mouth!"   
Invitation….