The Body of Christ in Buffalo Wyoming
"He is also the head of the body, the church, and He is the beginning, the first-born from the dead, so that He Himself might come to have first place in everything."   Colossians 1:18
As of this time (May 2016) the congregation of Christ here in Buffalo has a membership of about 33 members.  Our members range in age from 14 yrs to 85 yrs.
We hold our worship services at 11 am Sunday morning, and at 6 pm Sunday evening.  Bible studies are held at 10 am Sunday mornings, with an adult class, a teen class, and a pre-teen class.  There is also a Wednesday evening adult bible study at 7 pm.  All worship assemblies and bible studies are held at our building located at 1100 Fort St. Buffalo, Wy.  Fort St is the same as highway 16 west, that goes over the Bighorn Mountains and heads toward Yellowstone Park.
If you are ever in the neighborhood, we invite you to stop by and worship with us, or take part in one of the bible studies.  Visitors are always welcome and we promise that we will do our very best to make sure that you are made to feel right at home during your visit here.  Personal bible studies are always available by contacting us through one of our contact phone numbers or by email.  You can also leave a comment here on the website, and we promise to get back to you as soon as possible, usually the same day.
Contact numbers:
Jim;
307-620-9218

  /  Doug;

307-684-7938
Please leave a message if no one answers, and we will get back to you as soon as possible.
Send text messages to,
307-620-9218
Email:                                                             Website:
buffalococ@outlook.com                                      cocbuffalowy.com  

(or)
buffalochurchofchrist.com
History of the church of Christ in Buffalo
Christians first gathered for worship here in Buffalo in 1956, when a total of eighteen people met in the home of Mrs. Stella Reynolds.  That same year five gospel preachers from around Wyoming met here in Buffalo to conduct a gospel meeting.  The church began meeting with regularity in 1957, but then some people fell away, and others moved away, and the congregation disbanded for at least a few months, in 1957.
Then in January 1958, a new effort was made by some of the members, to assemble together when Elmer and Vashti Huff began holding bible studies and worship services in their home on Carrington St. in Buffalo.  When they first began meeting together, there were six adults and one child who assembled for worship.
By 1963, there were 29 members.  The membership fluctuated for several years, but in 1973, the congregation found itself with only one man, 5 women, and three children remaining.  Despite the struggles, that small group managed to maintain itself and to assemble for worship every first day of the week.  In the mid 70's growth came, and their perseverance was rewarded, as the Lord added to their numbers.
We have collected and saved much detailed information about the church's struggles during these early years, but from that point on, in 1958, the church of Christ has never ceased to assemble for worship, which includes partaking of  the Lord's supper, on every first day of the week, right here in Buffalo, Wyoming.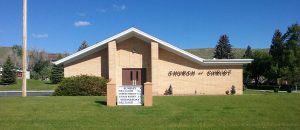 A Building to meet in; 1961
The church in those days came together in private homes and in rented buildings and borrowed buildings, whatever was available.  But thanks to the efforts of a brother named J.T. Bristow, funds were raised to build a much needed building in which to meet.  The construction commenced on Tuesday, June 6, 1961, and the building was completed, and an "Open House" was held, on Aug. 27, 1961.  There were over a hundred people present for the open house, with 74 who attended an afternoon singing, and 59 who came back for evening worship.
Today the church still meets in that same building located at 1100 Fort St.  Our membership at the time of this writing is 33.  We've had many people come and go over the years.  Many have just moved on to various areas of the country, and others have moved on from this life.  But we thank God for the faith and hard work that many individuals have put forth over the years to keep the congregation alive and strong, in Buffalo.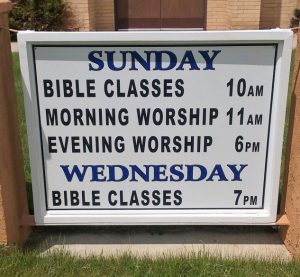 Come worship with us
We do want to invite everyone to come and worship with us if you are ever in our part of the country.  In the meantime, we urge you to continue to visit our website, and to leave your comments here, and ask us any questions you may have concerning the body of Christ as a whole, or this particular congregation, or any spiritual topic at all.   We love to talk about Jesus and those He died for, and we love to teach His word.  May God bless you all, according to His will.  Yours truly, in love; the body of believers in Christ, in Buffalo, Wyo.