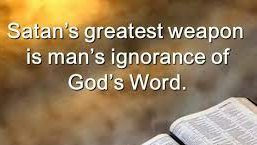 Begin a Bible Study
To engage in a bible study, right here on-line, let us know the topic that you would like to study, by going to the comment section at the bottom of this page, and typing in your request, and I will get back to you as soon as I possibly can, so that we can set up and begin your study. 
An excellent study topic that we highly recommend, is "God's Plan of Salvation". There's nothing, more important to each and every one of us, than knowing exactly how to be forgiven of our sins, and how to receive the promise of eternal life in heaven.  But of course, you can choose any topic that you desire.
If you don't have a specific topic that you would like to study, we can  guide you through a study of an overview of the entire bible, or an overview of either the Old Testament, or the New Testament.
When you leave your requests, you will be asked for an email address for me to respond to.  If you do not have an email, or if you do not wish to leave one, simply supply me with an alternative method of response, and I'll get back to you ASAP.
                               

"Come let us reason together saith the Lord"

 Is 1:18
You can leave your questions and comments at the bottom of any page.  This website is built around the format of answering the questions that you might have regarding the bible, or about God Himself, or the church, or any spiritual question at all.  And as always, we will go directly to God's word for the answers.  It's never our own thoughts that matter when it comes to the correct answer to any spiritual question, but rather, it is "God's Word" alone that matter.
Please Leave Your Questions In The Comment Area Below
"Ask and it will be given to you, seek and you shall find, knock and the door shall be opened unto you"  Mat 7:7

Feel free to ask any question at all, and we will be diligent to provide you with the bible answer as quickly as possible.  You can ask either a general, or specific question regarding any biblical topic, and I will respond to you ASAP, so that we can study the subject further, in as much depth as you desire.  If you don't have a specific question, but would like to pursue a study on a specific topic, please let me know what that topic is, and we can engage in that study.  Thanks for your interest in God's word.