Calendar of Upcoming Events
Congregational Singing
Wednesday, Aug 3rd, 7pm.  Each first Wednesday of the month we have our congregational singing at 7pm.  Wednesday is usually the evening for our bible study, but we have set aside the first Wed of each month for a very uplifting evening of singing hymns and spiritual songs.
Eph 5:19 says, "Speaking to one another in psalms, and hymns, and spiritual songs, making melody with your heart to the Lord."
Our singing is always "acapella", and it is beautiful and heart felt.  Please join us if you can.
Picnic in the Park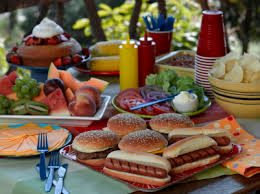 The picnics in the park are over for the season.  But we had some great get-togethers and will be looking forward to doing it again next year.  Thanks to  everyone who made our time together so enjoyable.
The Teen VBS Was Held; July 18th thru 20th
Our Teen VBS was a great success.  I truly believe that all who attended really enjoyed it and came away with some closer friendships, and better equipped spiritually to meet the challenges of life.  Thanks to all the teens, and to Ed Bass their instructor and friend.
Be sure to keep looking forward to next year's VBS as well.
The future belong to us, if we keep God in it.
Gospel Meeting
The Gospel Meeting has ended, but the message remains..  "I Want To Know Christ".  That's our goal; To know Christ, and to BE like Christ.  We want to thank our guest speakers, Brian Lombardi, Jess Simpson, and Mike Christiansen for their dedication to the word of God, and for the time they gave to us, in presenting to us the word.
Remember, no matter how well you know the bible, and no matter how well you think you already know the Christ, you can always get to know Him better, and have an even closer relationship with Jesus and with His word, and with God.
May we never stop learning and growing!
And again, I'm already looking forward to next year, and we're not even finished with this year yet!