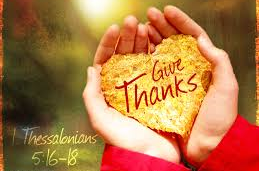 Be Thankful to God
"Rejoice always.  Pray without ceasing.  In everything give thanks, for this is God's will for you in Christ Jesus."   1 Thessalonians 5:16-18
Lord How We Thank Thee..  Let Us Count The Why's
 Here are ten reasons why we thank the Lord..
#1.
"For God so loved the world that He gave His only begotten son, that whoever believes in him should not perish, but have eternal life." 
John 3:16
#2.
"No greater love has any one than to lay down his life for his friends.  And you are My friends if you keep My commandments."   
John 15:13-14
#3.
"But God demonstrates His love for us, in that while we were yet sinners, Christ died for us." 
Romans 5:8
#4.
"Every good thing bestowed, and every perfect gift is from above, coming down from the Father of Lights, with whom there is no variation, or shadow of turning."  
James 1:17
#5.
"Blessed be the God and Father of our Lord Jesus Christ, who has blessed us with every spiritual blessing in the heavenly places, in Christ."  
Ephesians 1:3
#6. 
"For we do not have a High Priest who cannot sympathize with our weaknesses, but one who has been tempted in all things as we are, yet without sin."   
Hebrews 4:15
#7.
"In the world you have tribulation, but take courage, I have overcome the world!"
John 16:33
#8.
"To him who overcomes, I will grant to eat of the tree of life, which is in the paradise of God.
" 
 Rev 2:7
#9.
"And the peace that surpasses all understanding, shall guard your hearts and minds in Christ Jesus." 
Philippians 4:7
#10.
"For I am convinced, that neither death nor life, nor angels nor principalities, nor things present nor things to come, nor powers, nor height, nor depth, nor any other created thing, shall be able to separate us from the love of God which is in Christ Jesus our Lord."   
Romans 8:38

-39

. 
How many other "why's" can you think of, for us to be thankful to God?
          "The congregation of Christ salutes you, and invites you, to be thankful this day, and everyday."