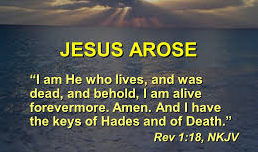 How Important Is The Resurrection of Jesus ?
We read in  1 Corinthians 15, verse 17;  "And if Christ has not been raised, your faith is vain, and you are still in your sins!"   And  verse 18  says;  "Then those also who have fallen asleep in Christ, have perished."  In other words, your hope is gone.  Your faith has been vain;  Your life has been vain!  Sounds like the resurrection of Jesus is not only important, but it's crucial!
And so  verse 20  declares boldly..  "But in fact Christ HAS been raised from the dead.  The first-fruits of those who have fallen asleep."  
When the women came to the tomb of Jesus, early on the first day of the week, to anoint the body of Jesus, an angel of God said to them..  "He is not here, for He has been raised!"  (Luke 24, verse 6)
Romans 6, verse 4  says;   "Raised from the dead, through the glory of the Father"
Let me read to you from  Mark 15, verses 22 thru 47..  
"And they bring him unto the place Golgotha, which is, being interpreted, The place of a skull."   (that knobby barren hill was said to resemble "a skull", and that's what Golgotha means..  "Skull")   "And they gave him wine mingled with bitter herbs to drink, but he received it not.  And when they had crucified him, they parted his garments, casting lots for them, as to what every man should take.   It was the third hour when they crucified Him."   (That puts His crucifixion at about 9 AM.  Now I'm not sure what time the beatings and the scourging started, was that already going on for a couple of hours?  I do know the suffering was far from over.  Jesus wouldn't die for at least six more hours, as He hung on the cross.
Back to our text;  "The inscription of the charge against Him read, "THE KING OF THE JEWS."  (that was evidently written on a piece of wood, and attached near the top of His cross, above His head)  "And with Him they crucified two thieves;  The one on his right hand, and the other on his left.  And the scripture was fulfilled, which saith;  And He was numbered with the transgressors." 
"Those passing by were hurling abuse at Him, wagging their heads, and saying;  Ha! You, who are going to destroy the temple and rebuild it in three days.  Save thyself, and come down from the cross.   In the same way the chief priests also, along with the scribes, were mocking Him among themselves, and saying;  He saved others; He cannot save Himself.  Let Christ the King of Israel descend now from the cross, that we may see and believe."
"And they that were crucified with him reviled him.  And when the sixth hour was come, there was darkness over the whole land until the ninth hour."   (Jesus had been on the cross for about three hours, from 9 Am, till noon, and then darkness fell across the land for the next three hours.  Why?  Was that supposed to be a likeness, of the "three days" that Jesus would be in the grave?  The bible doesn't tell us for sure, but that's what happened.
I'll tell you why I think there was darkness for those three hours.  Obviously the darkness was symbolic of something.  And in the bible, darkness is certainly symbolic of sin.  And on the contrary, Christ is symbolic of the light of the world.  And so it seems to me, that this darkness, is symbolic, of how sinful man, tried to extinguish, the light of the world.  The bible says in  John 1, verses 4 & 5;  "In Him was life, and the life was the light of men.  And the light shineth in the darkness, and the darkness received it not."  And so they tried to extinguish that light.
But the light wouldn't stay extinguished for long would it?  No, the light was only gone from the world, for one full day, and a portion of two others;  The bible calls it "three days".  From late-afternoon Friday, and all day Saturday, and then just a very little bit of Sunday, the first day of the week;  But three separate days..  And then, the light was resurrected!  And it shines today, and it shines for eternity!
But let me read from the bible again.   Mark 15, verse 34  says;  "And at the ninth hour, Jesus cried with a loud voice, saying, Elo-ee', Elo-ee',  lama sabachthani?   Which being interpreted is;  My God, my God, why hast Thou forsaken me?"  
Now let me stop, and say, that God the Father, NEVER forsook, Jesus Christ the Son.  Don't believe for a minute that He did.  And I'll tell you why..  as far back as  Deuteronomy 31, verse 6,  the Israelites were assured by Moses, that God "will never leave you nor forsake you!"  And Christians are likewise reassured by God, in  Hebrews 13, verse 5,  "I will in no wise fail thee, neither will I in any way, forsake you!"   Not in any way!
And if God promised to never leave nor forsake the Israelites, and if God likewise reassures us, that He will in no wise leave us nor forsake us, then you can rest your soul on the fact, that God the Father never forsook the Son either!
The Psalms Predict the Crucifixion of Christ
So then, why did Jesus say what he said?  When Jesus spoke those words, He was quoting  Psalm 22, verse 1  which says;  "My God, my God, why hast thou forsaken me?  Why art thou so far from helping me, and from the words of my groaning?"    Jesus was deliberately quoting a psalm, that predicted His own crucifixion.  It's an interesting Psalm;  Let me read some several verses of it.  I've already read  verse 1,  but let me continue..
"O my God, I cry by day, but You do not answer;  And by night, but I have no rest.   Yet Thou art holy, O Thou who art enthroned upon the praises of Israel.  In Thee our fathers trusted;  They trusted and You delivered them.   They cried unto Thee, and were delivered:  They trusted in Thee, and were not confounded.   But I am a worm, and not a man.  A reproach of men and despised by the people."   (And this is as if Christ himself were talking, through the words of this Psalm)
" Everyone who sees Me mocks Me;  They gape at me with open mouths, and shake their heads at Me saying;  He trusted on the Lord, that He would deliver him:  Let Him deliver Him, seeing He delighted in Him."   (You see, to the unbeliever, it "seemed" like God had forsaken Jesus.  But a believer should know better than that.  "They trusted, and You delivered them.  They trusted in Thee, and were not confounded!"  And neither were they forsaken!)
I gonna skip down to  verse 13  now;  "They open wide their mouth at me, as a ravening, and a roaring lion.  I am poured out like water, And all my bones are out of joint; My heart is like wax; It is melted within me.  My strength is dried up like a potsherd, And my tongue cleaves to my jaws;  And You lay me in the dust of death."   (I'm sure that's how Jesus felt, as He hung there dying on the cross, yet these words were written a thousand years earlier)
"For dogs have compassed me:  The assembly of the wicked have enclosed me:  They pierced my hands and my feet.  I can count all my bones. They look, they stare at me.  They divide my garments among them, And for my clothing they cast lots.  But be not Thou far from me, O Lord;  O my strength, haste Thee to help me.  Deliver my soul from the sword, My only life, from the power of the dog.   Save me from the lion's mouth:  For Thou hast heard me from the horns of the wild ox.   I will declare Thy name unto my brethren:  In the midst of the congregation will I praise Thee." 
That's kind of amazing;  Remember, this is as if Jesus Himself were speaking.  And in the midst of all the suffering that Jesus went through, He says here that He is going to praise God's name, in the midst of the assembly of God's people;  In the midst of the congregation.  That's a good lesson for us isn't it?
"You who fear the Lord, Praise Him!  All you descendants of Jacob, glorify Him!  And stand in awe of Him!  All you descendants of Israel.   For He has not despised nor abhorred the affliction of the afflicted;  Nor has He hidden His face from him;  But when he cried to Him for help, He heard!"  You see, God didn't forsake Jesus.  He knew His affliction, and He heard His cries.  Just like He hears our cries.  And even if you must to suffer, as Jesus HAD to suffer, He still hears your cries!
"My praise shall be of Thee, in the great congregation;  I will pay my vows before them that fear Him.  The afflicted will eat and be satisfied;  Those who seek Him will praise the Lord.  Let your heart live forever!"  Why would Christ say that He praises God, even in the midst of all His suffering?   And that we should do the same?  It's because there's a resurrection coming!   A resurrection from suffering, and a resurrection from pain, and a resurrection from death.  And a resurrection unto eternal life!  Through Jesus Christ.  Through His own resurrection!
Going back to  Mark chapter 15,   I want to read just a few more verses from that chapter.   Verses 37 thru 39;  "And Jesus uttered a loud cry, and breathed His last.  And the veil of the temple was torn in two, from top to bottom.  And when the centurion, which stood over against him, saw that He so cried out, and gave up the ghost, he said;  Truly, this man was the Son of God."
And  verses 40 & 41  tells us;  "There were also women looking on afar off;  Among whom was Mary Magdalene, and Mary the mother of James the less, and of Joses, (or Joseph) and Salome.  (Salome was the mother of the apostles named James and John)  "Who also, when He was in Galilee, followed Him, and ministered unto Him;  And many other women which came up with Him unto Jerusalem."   
And now  verses 42 thru 47;  "And now when the evening was come, because it was the Preparation, that is, the day before the sabbath, Joseph of Arimathea came, a prominent member of the Council, who himself was waiting for the kingdom of God;  And he gathered up courage and went in before Pilate, and asked for the body of Jesus. Pilate wondered if He was dead by this time, and summoning the centurion, he questioned him as to whether He was already dead.  And ascertaining this from the centurion, he granted the body to Joseph."
"And he bought fine linen, and took Him down, and wrapped Him in the linen, and laid Him in a sepulchre (or the tomb) which was hewn out of a rock, and rolled a stone against the door of the sepulcher.  And Mary Magdalene, and Mary the mother of Joses, beheld where He was laid."   
The Resurrection
The unbelievers, had put to death, the "light of the world", or so they thought!  But the bible says in  Acts 2:33,  "But God raised Him up again, putting an end to the agony of death, since it was impossible for Him to be held in its power."   And it says in  verses 36 thru 39;  "Therefore let all the house of Israel know for certain that God has made Him both Lord and Christ, this Jesus, whom you crucified.  Now when they heard this, they were pierced to the heart, and said to Peter and the rest of the apostles;  Brethren, what shall we do?   And Peter said unto them, "Repent, and each of you be baptized in the name of Jesus Christ for the forgiveness of your sins; and you will receive the gift of the Holy Spirit.   For The Promise, is unto you, and to your children, and to all that are afar off, even as many as the Lord our God shall call."   
And finally,   1 John 2, verse 25  says;  "And THIS is The Promise, that He hath promised us, even eternal life."   
Eternal life, through the crucifixion, and the death, AND the resurrection of Jesus Christ, and through OUR obedience to His commands.   "And having been made complete, He became the author of salvation to all those who obey Him."  (Hebrews 5, verse 9)