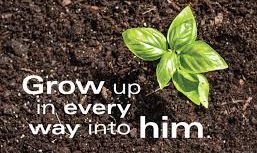 Grow In Christ
A couple of Sunday evenings ago, I read a little piece that was written by a lady who's a member of the church.  And I told you how she seems to have a lot of good ideas in what she writes.  And so last week she wrote something about growing in the Lord, and she suggested that repentance, is a sure sign of growth, for the Christian.  And I thought about that, and I think she's absolutely right.  And so I thought, I can't pass that up, I've got to share it with you.
Here's a statement that she made, that I'd like to share with you.  The statement says..
"Repentance, is looking into the mirror, of the perfect Law of Liberty, and not forgetting the flaws that the Word has revealed in you, but correcting what needs to be corrected."   And of course when we correct our flaws, we grow.  
Now that was meant to be a comment, on  James 1:22-25.  So, let me read those verses to you;
"But prove yourselves doers of the word, and not merely hearers, who delude themselves.  For if anyone is a hearer of the word, and not a doer, he is like a man who looks at his natural face in a mirror;  For once he has looked at himself, and gone away, he has immediately forgotten what kind of person he was.  (in other words, he forgets what he just saw in the mirror)  But he who looks intently at the perfect law, the law of liberty, and abides by it, not having become a forgetful hearer, but an effectual doer, this man will be blessed in what he does."  
Have you ever considered those verses as being a statement on repentance?   I really never had before, but I can certainly see the connection that the person is making.  Looking into the "mirror" of God's word, and seeing your faults, and correcting those faults, well, that's what repentance is.  Turning FROM sin, (turning from the imperfections) and turning TO God.
The new covenant word of God, is referred to in those verses we just read, as  "the perfect law of liberty".  And of course the reason that God calls it  "the perfect law of liberty", is because the new covenant is the only law, that has ever been given, that has the power to set us at liberty from our sins.  No other law of God has ever had that power.  No other law of God was ever MEANT to have that power!
But the new covenant law of Christ, HAS the power!   In  Romans 1,verse 16,  the apostle Paul declared;  "For I am not ashamed of the gospel of Christ:  For it is the POWER of God, unto salvation, to every one that believes;  To the Jew first, and also to the Greek."   Through the "perfect law of liberty", sin can be overcome, and salvation can be gained. 
We're told in  Psalm 19, verse 7;  "The law of the Lord is perfect, converting the soul;  The testimony of the LORD is sure, making wise the simple."   
And so this "perfect law of liberty", is being likened to a mirror.  And just like you would look into a mirror to see, and to evaluate your physical appearance, (or your physical "condition" you might say)  In the same way, you look into the the perfect law of Christ, the new testament, to see and evaluate your SPIRITUAL "condition".   Not necessarily your spiritual "appearance" but your spiritual "condition".   Because spiritually speaking, what you see, is not always what is true inside.
That's why the scripture says;  "..For the Lord does not see as man sees;  For man looks at the outward appearance, but the Lord looks at the heart."  (1 Samuel 16, verse 7)
But by looking "intently" at the teachings of the new covenant, we can evaluate our true spiritual condition.  Is something out of place?  Does something need to be changed?  But we've got to look "intently", because without looking "intently",  we might tend to OVERLOOK some kind of stain that's there, some blemish.
If you look very closely into the mirror, you'll be able to see all the blemishes on your face, or if your hair is out of place.  And if you have a full length mirror, you can see your whole posture, and the way you stand, and the way you "carry" yourself.
Well, that's what the "mirror" of the law of liberty does for us.  It enables us to see all our blemishes, all our imperfections, and we can even see if we "carry" ourselves, the way God wants us to "carry" ourselves.  And we can make sure that we are, still standing!
And when we see the imperfections that we have, those areas of our lives that don't measure up to God's will;  Those areas where there's sin in our lives, what do we do about them?  Well hopefully, we will repent of them, and grow.  Grow stronger and more mature.  Grow, to be a better Christian, by overcoming our weaknesses, and our faults (our imperfections).  A part of growing, as a Christian, is fixing our imperfections, and growing stronger, so that the same temptations that have plagued us in the past, don't plague us in the future.  That's spiritual growth!
Let me read that statement again, that I read to begin with..  "Repentance, is looking into the mirror, of the perfect Law of Liberty, and not forgetting the flaws that the Word has revealed in you, but correcting what needs to be corrected."   
And then that person went on to say this..  "You can't grow, if you don't correct the sins in your life."   Without correcting our sins, we remain stagnant!
But repenting of our sins, and overcoming those sins, is one of the major ways in which a Christian grows.  If we were sinless, we'd be full grown.  There'd be nothing to repent of, and nothing to grow into.
But  Ephesians 4, verse 13  says;  "until we all attain to the unity of the faith, and of the knowledge of the Son of God, to a mature man, to the measure of the stature which belongs to the fullness of Christ."   And so, until we get there, to that stature of the fullness of Christ, we all need to keep repenting, so that we can keep growing.   If we keep sinning the same kind of sin that we've been sinning for years, that means we haven't grown at all in that area.  And it means we haven't really repented of that sin!
If we've truly repented, that would mean that we've truly turned from that sin!  And that we've turned to God, and we've grown.  God promises us, in  1 Corinthians 10, verse 13;  "No temptation has overtaken you, but such as is common to man;  And God is faithful, who will not allow you to be tempted beyond what you are able, but with the temptation will provide also, the way of escape, so that you will be able to endure it."   
The way of escape that God has provided for us, is our faith.  And when we grow in faith, we CAN overcome ANY temptation!   God promises that we can!   We're told in  1 John 5, verse 4;  "For whatsoever is born of God, overcometh the world:  And this is the victory that overcometh the world, even our faith."   

And through our faith, we repent of our sins, which means that we've made up our minds, I have grown stronger than that!  And I am not going to sin that sin again!   And the way of escape that God gives us, so that we don't sin that sin again, comes from our faith.  The more faith, the more strength.  The more strength, the less that temptations affect us.  And the less that temptations affect us, the MORE we grow into the stature of the fullness of Christ!
And where does all that faith comes from, that gives us all that strength?  God says, that it comes from His word, the bible.  "So then faith comes from hearing, and hearing from the word of God."  (Romans 10:17)  
"Hearing" in that verse, implies understanding.  And understanding implies knowledge.  And that's why the scriptures tell us in  2 Peter 3:18,  "But grow, in grace, and in the knowledge, of our Lord and Savior Jesus Christ. To Him be glory both now and for ever.  Amen."   
"Knowledge" is the key!   Grow in knowledge, of our Lord and Savior Jesus Christ.  In other words, grow in your knowledge of the bible!
Peter tells us in  1 Peter 2, verse 2;  "Like newborn babies, long for the pure milk of the word, so that by it you may grow in respect to salvation."   Don't ever grow so proud, that you don't think you need the pure milk of the word.  Because without more and more knowledge of the word, we'll stagnate, and maybe we'll even grow weaker!
Proverbs 24, verse 5  says;   "A wise man is strong;  Yea, a man of knowledge, increaseth strength."   
And  Hosea 4, verse 6  tells us;  "My people are destroyed for LACK of knowledge.  Because thou hast rejected knowledge, I will also reject thee, that thou shalt be no priest to me:  Seeing thou hast forgotten the law of thy God, I will also forget thy children."   
Let us never reject more knowledge, because that's the key to growth, and that's the key to salvation.  Someone said, and I'm not positive that this is true, but someone said;  There's really no such thing as just remaining on a set level.  You're always gonna to be going either up, or down.  If you try to just remain level, just stagnant, you'll inevitably end up going downhill.
Take that for what it's worth, because it's not really in the bible.  Unless you can think of something similar to that, from the bible.  I wonder if being "lukewarm" might be a bit similar?   We don't want to be "lukewarm" do we?
Do you remember what Paul said about "pressing onward"?  He said in  Philippians 3:13 & 14;  "..forgetting what lies behind and reaching forward to what lies ahead,  I press on, toward the goal for the prize, of the upward call of God, in Christ Jesus."  Now that's growing!   "The upward call of God, in Christ Jesus."
And knowledge is the key.  Repenting of sin is an important part of growing as a Christian, but without knowledge, how would you even know what to repent OF ?
But there's one thing that comes even before knowledge.  And that is the fear of the Lord.  The reverence, and the respect, and the honor, and even the downright fear of losing salvation!
"The fear of the Lord, is the beginning of knowledge;  Fools despise wisdom and instruction."   (Proverbs 1, verse 7)   
"The fear of the Lord is the beginning of wisdom;  And the knowledge of the Holy One is understanding."   (Proverbs 9, verse 10)
"This is the end of the matter;  All hath been heard:  Fear God, and keep his commandments;  For this is the whole duty of man."   (Ecclesiastes 12, verse 13)  

Jesus said in  John 14:15;  "If you love Me, you will keep My commandments."   Now there's a great way grow, by loving God.  Grow, in the love of God.  Pretty good suggestion, huh?
Ephesians 4:15  instructs us with these words;  "But speaking the truth in love, may we grow up in all things, unto Him, which is the head, even Christ."

And I think we'll just close right there.
Love God, by hearing His word and believing that Jesus is the Christ, the Son of the living God.  (that's wisdom, and that's knowledge)  By confessing your faith before men, and by repenting of your sins.  (you're growing in faith when you do that)  And, by being baptized for the remission of your sins, (because there's no other way, except by obedience to God, to wash them away)  and by living faithfully  (and growing)  until the end.