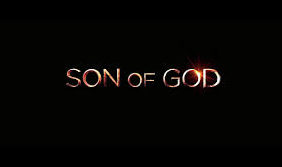 God Personified
In the bible, God often times has personified Himself, as if He had a physical body, like we do.  For example,  Psalm 34:15  tells us;  "The EYES of the Lord are upon the righteous, And His EARS are open to their cry."   
And in  Isaiah 59, verse 1  we read;  "Behold, the Lord's HAND is not shortened, that it cannot save;  Neither his EAR heavy, that it cannot hear."   And  verse 2  says;  "But your iniquities have separated between you and your God, and your sins have hid His FACE from you, that he will not hear."   
But our God took "personification" to a whole new level, when He personified Himself, as a Son, in the fleshly body, of our Lord Jesus Christ.  Jesus Christ, "the Son, of the living God"!  (Mathew 16:16)   The scripture says in  Hebrews 10, verse 5;  "Wherefore when He cometh into the world, (when the Son came into the world) He saith; Sacrifice and offering thou wouldest not, but a BODY hast thou prepared Me."  
God was literally "personified", in a flesh and blood body, the body of Jesus the Christ.  Of course before He came to be called the "Son", He was called the "Word".  The Word of God.  "In the beginning was the Word, and the Word was with God, and the Word was GOD!"  (John 1, verse 1)   I remember that's how Johnny Ramsey used to say it..  He didn't say; "The word WAS God."  No, Johnny always said;  "The Word was GOD!"   
Too many people don't want to believe that Jesus was God, and so Johnny made sure that he said it plainly, just like the bile says it;  "And the Word was GOD!"  Exclamation point!  And of course we know that's true, because  verse 14  tells us;  "And the Word became flesh, and dwelt among us.  And we beheld His glory;  Glory as of the only begotten of the Father, full of grace and truth."   The "only begotten" the "Son" of God.   God "personified".  
You know, God could have manifested Himself to us in any way that He chose.  He could shown Himself as a burning bush, or as a pillar of fire, or a pillar of smoke.   But He chose to manifest Himself as a "Father", and a "Son".   But that's not the first time that God presented Himself as a "Father".  In  Exodus 4, verse 22,  the Lord said;  "..Israel is my son, even my firstborn."   

That was somewhat figurative wasn't it;  Israel being the offspring of God, and God Himself being a Father to them.  But it illustrates the relationship that God desires us to have with Him.  God want us to look to Him as a loving Father, who is always there for His children.  The Lord said in  Isaiah 43, verse 6;  "bring my sons from afar, and my daughters from the end of the earth."  
In  Luke chapter 3,  a genealogy is given going from Jesus, all the way back to Adam.  And when it came to Adam, it says in  Luke 3, verse 38,  "..Adam, the son of God."   So from the very beginning of the bible, God has emphasized the fact that He indeed is, "our Father", and we are His sons and daughters.
God promised us in  2 Corinthians 6:18;  "And I will be a Father to you,  And you shall be sons and daughters to Me," Says the Lord Almighty."  
And when Jesus taught His disciples how to pray, He said in  Luke 1, verse 2;  "When ye pray, say, Our Father which art in heaven.."   
And so, how appropriate it was, that when God Himself came to earth, to become the sacrifice for the sins of the world, He would do so, as the very "Son of God", obedient to the Father's every word.  And what an example Jesus gave us to follow!  The example of the love, and the respect, and the loyalty, and the dedication, that any faithful child should have for their Father.  At least for a Father like God!
Why did the very Word of God, come to this earth, as the embodiment of a Son?  I believe that He did it in that manner, so that at the same time as He became the perfect sacrifice for our sins, (the sacrifice that only God could become)  He also became the perfect example, of the perfect Son, the perfect "child" of God.
And..  "Although He was a Son, yet He learned obedience, from the things which He suffered.  (and that was for our example!  That we should follow that example)  And having been made perfect, He became the author (the very source) of eternal salvation, unto all them that obey him."   (Hebrews 5, verses 8-9)
Let's song a song if you wouldn't mind.  I've asked _________  to lead us in hymn # 102;  It's called, "In the Garden".   And of course its talking about being in the garden with Jesus.
I think that God wants us to "identity" with Jesus.  I think that's one of the reasons that God manifested Himself, as a Son.  Jesus is a Son, we are sons and daughters.  We have a lot in common, and that didn't happen by mistake.  It was God's doing.
Philippians 2, verse 6  tells us, that Jesus..  "existed in the form of God".   John chapter 1  tells us that He was the "Word of God".    But  Philippians 2, verse 7   says..  "but emptied Himself, taking the form of a bond-servant, and being made in the likeness of men."  He emptied Himself, and became a Son.  And why a Son?  Well, so that we could identify with Him.   Hebrews 4, verse 15  says that Jesus was "tempted in all things as we are, yet without sin."   
And because of that, we're told that Jesus can "sympathize with our weaknesses."   (same verse)  we're not in this alone are we?  No, we're in it together, with each other, and with Christ, our "brother".  Even though Jesus is our Lord, and our master, and our Savior, He's also our brother.
Remember when Jesus asked in  Mathew 12, verse 48;  "Who are my brothers?"   And  verse 49  says;  "And He stretched forth his hand toward his disciples, and said;  Behold my mother, and my brothers!"   Besides being everything else that Jesus is, He's also your brother.  And what a man to have for your brother!
He's been there, He's done that.  And He can help us go through whatever it is we're going through.  And we can do it with confidence, because we know He's already done it.  All we've got to do is follow Him, right?  "I am the way, the truth, and the life;  No man comes to the Father, but by Me."   (John 14:6)  Why would we even want to try, going some other way?
In  John 6:68,  Peter said;  "Lord, to whom shall we go?  You have words of eternal life."  Right?  To whom would we go, if not to our brother, and our Lord?
You and I, can have confidence, before God, because of Jesus Christ.  If that thought doesn't uplift you, then I don't know what would.   Ephesians 3, verse 12  says;  "In whom we have boldness, and access with confidence, by the faith in Him."  Faith in our Lord Jesus.  

Hebrews 4, verse 6  says;  "Let us therefore come boldly unto the throne of grace, that we may obtain mercy, and find grace, (that's God's kindness) to help in time of need."   
Have you ever been hesitant to go to God?  Maybe you've felt unworthy, or something like that.  Maybe you've felt embarrassed, or guilty, over something you've done.  But there's no need to feel like that at all.  No, God wants us to come to Him, all the time, no matter what we have done, or what we haven't done.  That's the whole purpose of Jesus;  So that we can have forgiveness.
The second recorded sermon, that the apostle Peter preached, is in  Acts chapter 3.  And he said in  verse 19;  "Repent therefore, and be converted, that your sins may be blotted out, so that times of refreshing may come, from the presence of the Lord."   It's the presence of the Lord, that brings "times of refreshing".   Don't ever be afraid, or hesitant in the least, to approach God our Father.   Because that's the very way that we get refreshed!  By approaching our Father, through Jesus the Son.  
You know, Jesus said, in  John 14. verse 6;  "..No one comes to the Father, but through Me."   In  verse 24,  Jesus told His disciples;  "Until now you have asked for nothing in My name;  Ask and you will receive, so that your joy may be made full."   No one can even approach the Father acceptably, except through the Son.  But through the Son, you can not only approach our Father in heaven, But  Ephesians 3, verse 12  tells us;  "we have boldness, and access with confidence, by the faith of Him."  AND  "your joy can be made complete"!
Now as I've said, God has always been a "Father" to all of creation;  But listen to the relationship that He describes as having with the nation of Israel.  In  Jeremiah 31, verses 31 & 32,  God says to Jeremiah;  "Behold, days are coming," declares the LORD, when I will make a new covenant, with the house of Israel, and with the house of Judah."  (And along with this new covenant, there was going to be a new kingdom also.  A new kingdom, to replace the old kingdom, of Israel)  (So, a new kingdom, and a new covenant)  "Not according to the covenant that I made with their fathers, in the day that I took them by the hand, to lead them out of the land of Egypt;  My covenant which they broke, although I was a husband to them, says the Lord." 
 God our Father, was a "husband" to the nation of Israel!  A husband.  Their relationship was like that of a marriage.  In a physical marriage, the husband and wife are supposed to become "one flesh".  But since this was a "spiritual" marriage, Israel should have been "one spirit" with God.   But they weren't!  They broke the marriage vows;  They broke the covenant.
And as we read from Jeremiah, that's one of the reasons WHY God was making a NEW covenant with His people;  Because they broke the first covenant!  Israel played the harlot!  They went after other "gods" so to speak.  And so God was going to make a change.  He wasn't going to completely "divorce" Israel.  But He was going to make a change.
God was going to change His role, from that of a husband, and He was going to assume His role as a Father, and He was going to send His Son, to redeem His former wife, Israel, from her adulterous condition.
And for those of Israel, who would accept God's offer of redemption, through His Son, they would be offered another chance at marriage.  But this time, Israel's "marriage" would not be to the Father, but it would be to the Son!
Revelation 21, verse 2  gives us a symbolic picture of what I'm talking about.   Revelation 21:2  says;  "And I saw the holy city, NEW Jerusalem, coming down out of heaven from God, made ready as a bride, adorned for her husband."   The NEW Jerusalem, is the NEW Kingdom, the kingdom of Christ.  It is the "bride of Christ".   It is the "church of Christ"!
I wonder if there ever was a day, that made God the Father any happier, than the day He joined His only begotten Son, to His wife, in marriage?  What do you think?
Revelation 19, verse 7  says;  "Let us rejoice and be glad, and give the glory to Him, for the marriage of the Lamb has come, and His bride has made herself ready."
Do you know why our Father, has forgiven our sins through His Son?   Well,  Ephesians 5, verse 27  says;  "..to present her to Himself, as a radiant church, without stain or wrinkle or any other blemish, but holy and blameless."  And we read in  2 Corinthians 11, verse 2;  "..I promised you to one husband, to Christ, so that I might present you as a pure virgin to Him."    And so God forgave us our sins, so that He could present us, to Christ, as a blameless virgin, a holy bride.
What are you willing to do for God?   What are you willing to present to Him?  Yourself?  Your time?  Your talents?  Your life?    The invitation is yours..