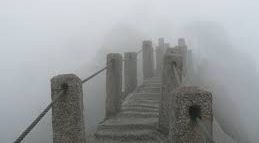 The Narrow Way
Jesus said, in  Mathew 7:13-14,   "Enter by the narrow gate.  For the gate is wide, and the way is broad that leads to destruction, and many are those who enter by it.  For the gate is small, and the way is narrow, that leads to life, and few there be who find it."
The apostle John wrote in  2 John, verses 9-11,  "Anyone who goes too far and does not abide in the teaching of Christ, does not have God!  The one who abides in the teaching, has both the Father and the Son.  If anyone comes to you and does not bring this teaching, do not receive him into your house, and do not bid him god-speed.  (do not wish him well)  For the one who bids him god-speed, participates in his evil deeds." 
How narrow minded can you get?  "Anyone who does not abide in the teaching of Christ, does NOT have God!"   We as Christians, must be so narrow-minded that ONLY the teachings of Christ can be received.  No other teaching is acceptable, and evidently no other teaching will be tolerated by God.  How completely, we must give ourselves to God's word and to it's teachings.
In today's world, "tolerance" is the word of the day.  But I'm afraid that the idea of tolerance, has become the belief and practice, of "anything goes".   Even though people may want to believe that anything goes, we're still going to held accountable to God.
We're told in  2 Corinthians 5:10,  "For we must all appear before the judgment seat of Christ, that each one may be recompensed for the deeds done in the body (during our lifetime), according to what he has done, whether good or bad."
And when we do stand before that judgment seat of Christ, do you know what we'll be judged by?  Jesus Himself said, in  John 12:48,  "He who rejects Me and does not receive My sayings, has one who judges him.  The words that I spoke, will judge him at the last day." 
It's no wonder then, that John wrote,  "Anyone who goes too far, and does not abide in the teachings of Christ, does not have God."   If it's the very words of Christ, that we'll be judged by, then we had better abide by them!
There's a principle given in the old testament, that is just as applicable today, as it was then.  Deuteronomy 11:18-20  says,  "You shall therefore put these words of Mine on your heart, and on your soul.  And you shall bind them on your hand and they shall be as frontals on your forehead.  And you shall teach them to your sons, talking about them when you sit in your house, and when you walk along the road, and when you lie down, and when you rise up.  And you shall write them on the doorposts of your house and on your gates."  In other words, the word of God should fill our lives.
A man recently asked me;  What is the best time to study the bible?  So I answered and said;  I like to study the bible, the first thing in the morning, and the last thing at night.  That way you can ponder those words all day long, and all night long too.
There's a house here in town where I live, that has these words over the front door,  "God Loves You".  I live in a great community, and I'm sure that you do too.  But can you imagine how great every community would be, if everyone had a verse of scripture written above their front door, and the whole law of God in their heart?
Psalm 119:105  says,  "Thy word is a lamp to my feet, and a light to my path." 
"And now I commend you to God, and to the word of His grace, which is able to build you up, and to give you an inheritance among all those who are sanctified."   Acts 20:32.
May God bless you in the study of His word, and in the abiding in that word.
Please leave your questions or comments in the space provided below.