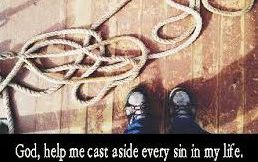 Sin Entangles Us
Lately I've been suggesting to you that you think on things that are lovely, and beautiful, pure, and honest, and that kind of thing.  But sometimes, we have to think about other things as well.  For example, sometimes, we simply have to think about sin.    I mean, the bible has an awful lot to say about sin;  And we'd surely be being negligent, if we didn't give enough thought to the matter.
We not only have to think about sin, but we have to deal with it as well.   There won't really be anything lovely to think about, if we don't first deal with sin.  Sin is real, and it's evidently not ever going to go away;  At least in this life it's not.  So then we've got to deal with it.
We've all "sinned"!  (Romans 3:23)   Sin is "lawlessness"  (1 John 3 verse 4)    All "wrongdoing" is sin   (1 John 5:17)   To him that knows to do "good" and does it "not", to him it is sin.   (James 4:17)    "And if you do not "do well", sin is crouching at the door. Its desire is for you, but you must rule over it."   (Genesis 4, verse 7)   Jesus said, everyone who "commits" sin, is a slave to sin."   (John 8:34)   Jesus said on more than one occasion;  Go and sin "no more"  One of those occasions was in  John 8:11.   
Sin "separates" us from God  (Isaiah 59, verse 2)     The "wages" of sin, is death  (Romans 6:23)    The "sting" of death, is sin.  (1 Cor 15:56)
And Jesus warns us, in  John 8, verse 24,  with these words;  "I said therefore unto you, that ye shall DIE in your sins:  For if ye believe not that I am He, ye shall die in your sins."
If we believe NOT, that Jesus is He!  If we believe not that Jesus is who?   Who must we believe that He is?   We've got to believe that He's "the Christ"!   (Mathew 16:16)   We've got to believe that He's the "Word" of God, that became flesh  (John 1:14)
We've got to believe that Jesus is the one and only Savior!  We've got to believe..  "There is salvation in none other;  For neither is there any other name under heaven, that is given among men, by which we must be saved!"   (Acts 4:12)   

And we've got to believe that  "the Son of Man has power on earth to forgive sins"   (Mathew 9, verse 6)  
We've got to believe that ".. sin will have no dominion over you."   (Romans 6:14)   It simply won't!   No control, no dominion, no power, unless you let it!    
Romans 6:17  says;  "But thanks be to God, that though you were slaves of sin, you became obedient from the heart, to that form of teaching to which you were committed."   That form of teaching is the new covenant, it's the gospel.
Galatians 5;13  says; "For you, brethren, have been called to freedom (to liberty);  Only do not use liberty as an opportunity for the flesh..  (in other words, don't think that your "liberty" and your "freedom" makes you free to indulge in sin!   Quite the contrary actually.  It gives you freedom FROM sin!  So that you can indulge in obedience to God!)  Here's what that verse tells us to do..  It says;  "..but through love, serve one another."   We have been freed from sin so that we can serve one another, in love.   
Sin doesn't have dominion, because of the "law of liberty".  (James 1:25)   That's the law that we've been called to.  The law that sets us free;  Free from the power of sin, and from the dominion of sin.  Free from having to receive the "wages" of sin.  Free from the "sting" of death.   Free to live, instead of being bound to die!
When Jesus said in  John 8:32;  "You shall know the word, and the word shall make you free"..  He was speaking about knowing the word of the law of liberty.  The word of the new covenant law in Christ.  Jesus couldn't have been talking about any other word, or any other law, because no other law can free us from sin.  Only the new covenant law, the law of Christ.
The prophet Ezekiel prophesied about what God would do for us.  He said in  Ezekiel 36:25 thru 27;  "Then I will sprinkle clean water on you, (Christ is the "clean water")  and you shall be clean;  I will cleanse you from all your filthiness and from all your idols.  I will give you a new heart, and put a new spirit within you;  I will take the heart of stone out of your flesh, and give you a heart of flesh.  I will put My Spirit within you, and cause you to walk in My statutes, and you will keep My judgments, and do them."   
Psalm 119, verses 1 thru 4  says;  "..Blessed are those whose way is blameless, Who walk in the law of the LORD.  Blessed are those who keep His testimonies;  Who seek Him with the whole heart!  They also do no iniquity;  They walk in His ways.  Thou hast commanded us to keep thy precepts diligently!"   
That's what freedom from sin is.  It's freedom, to obey the Lord diligently!   But a lot of people don't see that as freedom. they think having to obey God is slavery!   They want real freedom!   Freedom to do what you please, when you please to do it.  But the bible tells us that that kind of freedom, doesn't exist.  It doesn't exist!
Because God tells us, in  Romans 6, verse 16;  "..you are slaves of the one whom you obey;  Either of sin, resulting in death, or of obedience, resulting in righteousness?"   We're slaves either way.  total freedom, doesn't exist.  But freedom from sin, does exist!
You know, Job asked a question in  Job 15 verse 14.   Job said;  "What is man, that he can be pure?  Or he who is born of a woman, that he can be righteous?"   Can we do it?  Can we be free from sin, and actually be righteous?  With a little help we can!   
Ephesians 1, verse 7  says;  "In Him, we have redemption through his blood, the forgiveness of our trespasses, according to the riches of his grace."    David said in  Psalm 32:5;  "I acknowledged my sin to You, and I did not cover my iniquity, (I didn't try to hide it)   I said, "I will confess my transgressions to the Lord," and you forgave the iniquity of my sin.  Selah"
The apostle John testified to the source of that forgiveness.  He said in  1 John 1:1 thru 3;  "That which was from the beginning, which we have heard, which we have seen with our eyes, which we have looked upon, and our hands have handled, of the Word of life;  (For the life was manifested, and we have seen it, and bear witness, and shew unto you that eternal life, which was with the Father, and was manifested unto us)  That which we have seen and heard, declare we unto you, that you also may have fellowship with us:  And truly our fellowship, is with the Father, and with His Son Jesus Christ."   
You know,  James 1:14 & 15  tells us, that  "But each one is tempted when he is carried away and enticed by his own lust.  Then when lust has conceived, it gives birth to sin;  And when sin is accomplished, it brings forth death."  
But  God tells us, in  1 Corinthians 10:13,  that  "..God is faithful, who He will not ALLOW you be tempted beyond what you are able, (what you're able to bear)  but with the temptation, He will also provide the way of escape, that you may be able to endure it."   That's the blessing we have when we're in fellowship with the Father and the Son!
Sin no longer has dominion over us.  The Lord won't let it have dominion over us!  We can overcome sin, through Christ.  Not only can we be forgiven of sin through Christ, Like the bible says in  1 John 1:9;  "If we confess our sins, He is faithful and righteous to forgive us our sins and to cleanse us from all unrighteousness."
But we can actually overcome the temptations to sin, and endure the temptations, and come out of it, without sinning!   We can do that!   God gives us the "way of escape".  And that way of escape, is our faith.   God gives us our faith, through our trust in His word (Romans 10:17)  And our faith allows us to endure whatever temptation the world can throw at us.   Without sinning!   We can do it!  We don't always do it, but we CAN do it!
I'm sure you've heard these words from the bible;  "..let us lay aside every weight, and the sin which doth so easily beset us.."   Some versions say "every burden, and every sin that so easily ensnares us.."   That's from  Hebrews 12, verse 1.   
But sin can do that sometimes, can't it?  It seems like so easily sometimes, sin can ensnare us.  Sometimes we don't even see it coming.  But the next thing we know, it's got us, and we've sinned!
So then, what's the sin that so easily ensnares you?   Don't say it out loud!  You know what it is.  Just keep it between you and God, but think about it?  Evidently, from what God is saying to us in that verse, it's common for everyone, to have something, that tends to trip us up.  Some area, in which we are prone to sin.  God tells us, that we all sin sometimes, right?
"If we say we have no sin, we deceive ourselves, and the truth is not in us."   (1 John 1, verse 8)
Now you know as well as I know, that if we're sinning every day, that we're probably sinning willfully, and there is no forgiveness for that!  That's what  Hebrews 10:26  tells us.   And so then, as a Christian, and as a faithful Christian, this isn't everyday sin we're talking about.  It's just that sometimes, even though we don't want to do it, something just trips us up, and maybe we don't even see it coming, but then it's there.
Do we lose our temper sometimes, and maybe say something that is sinful?  Or do we sometimes realize that we're holding a grudge against someone?  And that's not right, because if we want to be forgiven, we must forgive.
As a faithful Christian, we're not involved in all the sinful things of this world, or at least we better not be.  We know what those sins of the flesh are, those "deeds of the flesh".   "Sexual immorality, impurity, sensuality, Idolatry (which is covetouness) sorcery, hatred, contentions, jealousies, outbursts of wrath, selfish ambitions, dissensions, heresies, envyings, murders, drunkenness, revellings."   (Galatians 5:19 thru 21)   
But maybe even some of those things can kind of "bleed through" and stain us.  Even though we don't want them to;  and we don't do any of that on purpose.   But do you think that just maybe, we might feels some jealousy or envyings?  And we know that those words can be used in good ways too, but we know what the bible means there.
Or how about maybe just a little "selfish-ambition".  Could we be guilty of that maybe without realizing it?   Can we forget to forgive, as we ought to?  Can we get just a little contentious sometimes?   What if we simply get a little self-centered, and fail to do unto others, as we would have them do unto us?  And maybe fail to bear the burdens of someone else, when we surely could do that?
There's so many little things, that we can stumble over, and if we even stumble over one, we become guilty of all.   (James 2:10) 
So then, let's think about maybe trying our best, to be just a little bit better;  To go a little bit longer, without any sin.  We all sin, but we can all be forgiven.  Thanks be to God..  For his love, and His mercy, and His Son, and, our forgiveness.
The invitation is for us all..