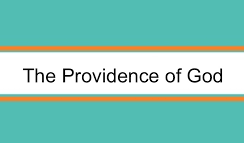 The Providence of God is Manifested –  Continued..
(Please see the  previous lesson, called  "The Cross And God's Providence" outlining the first three points on how the providence of God has been manifested)
#4.  By giving His Son to die on the cross, God provided man with an essential message, No sinner can be saved apart from the grace of God—through the blood of Jesus Christ.
Ephesians 2:8-9  tells us;  "For it is by grace you have been saved through faith, and this not from yourselves; it is the gift of God, not by works, so that no one can boast."   No work that originates with man, has any part at all in our salvation.  It is only the works that originate from God, that play a part in our salvation.  And that is why  verse 10  says;  "For we are God's workmanship, created in Christ Jesus to do, good works, (in other words, To obey God!) which God prepared in advance, as our way of life."

While works are necessary to salvation (works of obedience to God, no one can be saved by meritorious works (works of man's own conception)   James 2:24-26  tells us;  "As you can see, a man is justified by his deeds and not by faith alone.  In the same way, was not even Rahab the harlot, justified by her actions, when she welcomed the spies, and sent them off on another route?  As the body without the spirit is dead, so also, faith without deeds is dead."   That was a work, according to God's will.  
But on the other hand,  2 Timothy 1:9  says;  "He has saved us and called us to a holy calling, not because of OUR works, but by His own purpose, and by the grace He granted us, in Christ Jesus, before time began."   Do you see how similar that verse is, to  Ephesians 2;10?  "For we are His workmanship, created in Christ Jesus for good works, which God prepared beforehand so that we would walk in them."  And then  2 Timothy 1:9;  "He has saved us and called us to a holy calling, not because of OUR works, but by His own purpose, and by the grace He granted us, in Christ Jesus, before time began."
And now, concerning the blood of Christ,  Hebrews 9:22  tells us,   "And almost all things are by the law, purged with blood;  And without shedding of blood, there is no remission."  
And  Romans 8:1-4  says;  "Therefore, there is now NO condemnation, for those who are in Christ Jesus.  For in Christ Jesus, the law of the Spirit of life, set you free from the law of sin and death.  For what the law was powerless to do, in that it was weakened by the flesh, God did, by sending His own Son, in the likeness of sinful man, as an offering for sin. He thus condemned sin in the flesh, so that the righteous standard of the law, might be fulfilled in us, who do not walk according to the flesh, but according to the Spirit."

#5. The Providence of God is further manifested by the declaration.. of the death of Jesus Christ on the cross;  In that, while you cannot save yourself WITHOUT the grace of God, God can save you, BY His grace, through the power of the Gospel of Christ.
Romans 1:16 & 17  says this;  "For I am not ashamed of the gospel, for it is the power of God for salvation to everyone who believes, to the Jew first and also to the Greek.  For the gospel reveals the righteousness of God, that comes by faith, from start to finish, just as it is written: "The righteous will live by faith."  
Luke 24:45-47  tells us;  "Then He opened their minds to understand the Scriptures.  And He told them, "This is what is written: The Christ will suffer and rise from the dead on the third day, and in His name, repentance and forgiveness of sins, will be proclaimed to all nations, beginning in Jerusalem."
And  Hebrews 7:25  says;  "Therefore He is able to save completely, those who draw near to God through Him, since He always lives to intercede for them."   
#6.  The Providence of God, is manifested, in His power to save sinners through the Gospel.  This, in effect, argues that if God gave us the GREATEST gift, we are not to worry about other matters.
Mathew 6, verses 25 & 26  say;  "For this reason I say to you;  Do not be worried about your life, as to what you will eat or what you will drink; nor for your body, as to what you will put on.  Is life not more than food, and the body more than clothing?  Look at the birds of the air. They do not sow nor do they reap, nor do they gather into barns, and your Heavenly Father feeds them. Are you not much more valuable than they?"  
And  Philippians 4:4 thru 7  says;  "Rejoice in the Lord always, and again I say rejoice!  Let your gentle spirit be known to all men. The Lord is near.  Be anxious for nothing;  But in everything by prayer and supplication, with thanksgiving, let your requests be made known to God. And the peace of God, which passes all understanding, shall keep your hearts and minds through Christ Jesus."  
If God has given us His greatest gift already, why would He not give us everything that we need?  And why would we doubt Him, for even a minute?
#7.   The providence of God (as to His eternal purpose) is further manifested in the cross, not only by His having the POWER to save sinners, but also by His WILLINGNESS (through His love) to save men.  He has the power, He wants to use that power, and He will use that power to save those who will love and obey Him.   Obedience to God is so  very important to salvation.  And the verses that express that truth so clearly, are the verse that we quote so often..  Hebrews 5, verses 8 & 9.   
 Hebrews 5, verse 8  tells us, that..  "Though He were a Son, yet learned HE obedience by the things which He suffered;  If even Jesus Christ had to "learn" or "experience" obedience, that shows us just how important obedience is to God!   Jesus' obedience to death on the cross, is what perfected Him, it's what completed Him, as the perfect sacrifice for sin.
We read in  Philippians 2, verses 7 & 8  that Jesus  "..emptied Himself, having taken the form of a servant, having been made in the likeness of men.  And having been found in appearance as a man He humbled Himself, having become obedient unto death, even the death of the cross."   
And then we read in  Hebrews 5, verse 9;  "And being made perfect, (or complete) He became the author of eternal salvation unto all them that obey Him."   Jesus obeyed the Father, thus perfecting Him, and we obey Jesus, thus perfecting us.  
Jesus said in  John 14, verse 15;  "If ye love me, keep my commandments."   Now these next two verses really specifically apply to the apostles, but we can make application to us as well.   Verses 16 & 17   say;  "And I will ask the Father, and He will give you another Advocate, (a comforter) to be with you forever;  That is the Spirit of truth, (The Holy Spirit)  whom the world cannot receive, because it does not see Him or know Him, but you know Him, because He abides with you, and will be in you. " 
Now of course the reason that those verses specifically apply to the apostles, and not specifically to us, is because that is talking about the miraculous powers that the apostles were going to receive, directly from the Holy Spirit of God.  They would miraculously be given, the knowledge of the word of God, and the powers to perform "signs and wonders" as the scripture calls them;  So that they could preach the word, and confirm, that the word was indeed from God Himself.   And those powers from the Holy Spirit would dwell in the apostles all the rest of their lives.
But as I said, these promises made to the apostles, still apply to us today, but just in a different way.  They received the word of God miraculously;  We have received the word of God, through their testimony.  But we've all received the same word of God.  And they received the Holy Spirit to dwell in them miraculously, while we have received the Holy Spirit to dwell in us, through the word of God.  We've all received the same Holy Spirit, we've simply received the Spirit in different ways.  And that same Spirit will also be with us, for the rest of our lives, if our hearts will allow it.
Now if you want to talk about providence, how great is the gift of the very Spirit of God, to be with us all of our lives?  And what has made that possible, is Jesus and the cross.
Titus 2:11  says;  "For the grace of God has appeared, bringing salvation, to all men."  (to all people)   Now that's the providence of God.  We couldn't achieve salvation on our own, so God brought it down to us.  He doesn't force it upon us, but He brought it to us, for us to freely take.
#8.   The providence of God (in connection with His eternal purpose) exalts the truth.  The cross declares that the truth is objective (it is not changed by any man's drawing an opinion as to what it is.  Human decisions in regard to the truth, do not change the truth one bit.  "Thy word is truth!"  Jesus said, in  John 17, verse 17.   And human opinion or lack of understanding, won't change it at all.
The truth is not "subjective", but it's "objective".   It is not subject to the desires of man.  But rather, there is one truth, and one truth only.
That's why Paul wrote to the Galatians, telling them, in  Galatians 1:6 thru 9;  "I am amazed that you are so quickly deserting Him who called you by the grace of Christ, for a different gospel!  Which is really NOT another;  Only there are some who are disturbing you, and want to distort the gospel of Christ.  But even if we, or an angel from heaven, should preach to you a gospel contrary to what we have preached to you, let him be accursed!  As we said before, so say I now again, If any man preach any other gospel unto you than that ye have received, let him be accursed."
In God's providence, we have been given a gospel that DOES not change, and that cannot BE changed!   And may he be accursed who tries!
Further, the cross of Christ declares that the truth is necessary.  In his gracious providence, God has provided with the one—the only—message which can save him from his sins;   Acts 4:12  tells us;  "Salvation exists in no one else, for there is no other name under heaven, given to men, by which we must be saved."   The gospel is necessary!
1 Corinthians 3:11  declares;  "For no other foundation can anyone lay, than that which is laid, which is Jesus Christ."   Jesus Christ and His cross is what it's all based upon.  Just like there exists no other salvation, there exists no other foundation.
Any man who rejects the gospel will be damned.   Mark 16:15-16  tells us;  "Go into all the world, and preach the gospel to every creature.  He who has believed, and has been baptized, shall be saved; but he who has disbelieved shall be condemned."   It's necessary.
And  2 Thessalonians 1:7 thru 9  warns us, explicitly;  "For after all it is only just, for God to repay with affliction, those who afflict you, and to give relief to you who are afflicted, and to us as well, when the Lord Jesus will be revealed from heaven with His mighty angels, in flaming fire, taking vengeance on them that KNOW not God, and that OBEY not the gospel of our Lord Jesus Christ."  Nota  pretty picture, but yet, this scriptures say that is is a "righteous thing".  "It is only just".    It's not for us to argue with God, over what is righteous or just.  
There's a saying that can be applied here..  "Ours is not to wonder why;  Ours is just to do and die."
By His gracious providence, God has given man the one and only inspired message—the Bible.
2 Timothy 3:16-17  says;  "All Scripture is inspired by God and profitable for teaching, for reproof, for correction, for training in righteousness;  That the man of God may be perfect, (complete, adequate)  thoroughly furnished unto all good works."

The truth is unique;  There is no other message which can even compare with it.  Just being religious, just believing SOME religious message, will not save one.  It is the Gospel of Christ—and only that Gospel—which can save any person.  And it must be emphasized repeatedly, that truth must not only be believed;  But it must be OBEYED
#9.   It is also the case that the providence of God, in connection with His eternal purpose, provides men with the message through the Bible, that men must live sacrificial lives, in order to be saved eternally
Revelation 2, verse 10  tells us;  "Do not fear what you are about to suffer.  Behold, the devil is about to cast some of you into prison, so that you will be tested, and you will have tribulation for ten days.  Be faithful until death, and I will give you the crown of life."  Now, the devil casting you into prison for ten days, is figurative language.  The point being, that we will suffer, and we will need to make sacrifices in our lives, if we would remain faithful Christians.  Now what's not figurative, is that if we WILL remain faithful unto death, we WILL be crowned with eternal life.  That you can depend on!
Listen to the sacrificial attitude that the apostle Paul displays, with the words of  Philippians 1:19-26;  "For I know that through your prayers and the help of the Spirit of Jesus Christ this will turn out for my deliverance, (Paul was going through some suffering)  as it is my eager expectation and hope, that I will not be at all ashamed, but that with full courage, now as always, Christ will be honored in my body, whether by life or by death."
And here's that verse you're all so familiar with;  "For to me, to live is Christ, and to die is gain.  But if I am to live on in the flesh, this will mean fruitful labor for me; and I do not know which to choose.  I am torn between the two. I desire to depart and be with Christ, which is far better indeed;  Nevertheless, to abide in the flesh is more needful for you.  (sacrifice, right?)  And having this confidence, I know that I shall abide and continue with you all for your furtherance and joy of faith;  So that through my coming to you again, your exultation in Christ Jesus will resound on account of me."   But he would have rather, been taken home to be with the Lord. 

(Maggie DeLap)
Jesus said in  Luke 14:27;  "Whoever does not bear his own cross, and come after Me, cannot be My disciple."  We've simply got to be willing to sacrifice.  He said in  Luke 9:24;  "For whoever desires to save his life will lose it, but whoever loses his life for My sake, will save it."   And Jesus asks this question in  verse 25;  "For what is a man advantaged, if he gain the whole world, and lose himself, or be cast away?"   Another way of saying that would be;  What would it gain a man, to NOT make the sacrifices that God requires?    What good would that do?  There was a wealthy Jew of the ruling class, that came to Jesus, and asked Him;  "Good teacher, what must I do to inherit eternal life?"  (Luke 18:18)   And Jesus told him to make a pretty big sacrifice.  And so he went away sorrowful, cause he just couldn't do it.  But what did it profit him? 
Listen to this passage from  2 Peter 1, verses 5 thru 8.   And as I read this, think of how many of the things mentioned, require some degree of sacrifice.   Here we go;  "..make every effort to add to your faith virtue; and to virtue, knowledge;  and to knowledge, self-control; and to self-control, perseverance; and to perseverance, godliness;  and to godliness, brotherly kindness; and to brotherly kindness, love."    Do any of those things require any sacrifice on our part?   Or does all of that just come so naturally to us all, that it's no big deal.
Is there any sacrifice in having complete self-control?  Any sacrifice in total perseverance?  In godliness?  In brotherly kindness.  How about in love?  Does love require us to sacrifice?
#10.   The church (the one body of Christ, the kingdom of Christ) has been provided by God.  The kingdom is a manifestation of the providence of God, and established, by the blood of Jesus, shed on the cross.  It is the body of souls who have been saved by the blood of Jesus Christ
Hebrews 9:22  says;  "And without the shedding of blood there is no forgiveness."
Ephesians 1:7  says;  "In Him we have redemption through His blood, the forgiveness of our trespasses, according to the riches of His grace."   
Acts 20:28  says;  "Take heed to yourselves and to all the flock, among which the Holy Spirit has set you overseers, (this was being written to the elders of the congregation at Ephesus) to shepherd the church of God, which He purchased with the own blood."   Whose blood purchased the church?  GOD'S blood, as He hung on the cross!
XXXXXXXXXXXXXXXXXXXXXXXXXXXXXXXXXXXXXXXX
Romans 5:8-9; Acts 20:28; Ephesians 5:25-32). How marvelous is the providence of God in providing the church!
Two of the greatest needs of man are to grasp the significance of this declaration and to love God with all of his heart, soul, mind and strength (Matthew 22:34-40).
The cross is God's greatest declaration of His love for all the world (John 3:16).