.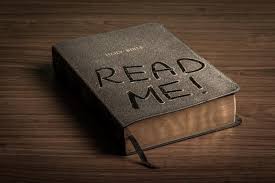 Can I Understand The Bible ?
The simple answer is; Yes, you absolutely can understand the bible.  There are many people who share the view that understanding the bible is next to impossible for the average person.  But nothing could be farther from the truth.  Understanding bible scriptures entails not much more than just reading them and using some common sense.  The biggest problem with understanding the bible is that most people simply won't take the time to read the bible.
And the problem isn't that no one wants to read anymore.  Quite the contrary, everyone reads, and they read more often that you might think.  Sure, there are people who would rather sit in front of the TV, or in front of the computer playing video games, but the sales of E-Books for instance, is skyrocketing.  And downloads onto Kindles and other devices are increasing all the time too.  So people are reading, it's just a matter of what they are reading.  The truth is that people's interest in knowing the bible has dwindled to the point where they "don't have time" for the bible.  Sadly, people's interest in God, has dwindled to the point that they don't have time for God!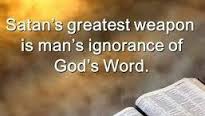 Willfully Ignorant
There's a verse of scripture in Hosea 4:6, that says,  "My people are destroyed for lack of knowledge.  Because you have rejected knowledge, I will reject you from serving as My priest.  Since you have forgotten the law of your God, I will also forget your children." 
It's nothing new for people to not have time for God, or for God's word, is it?  They've actually been doing it since the beginning of time, and they will do it until the end of time.  Solomon the "Preacher", and the king of Israel wrote in Eccl 1:9,  "That which has been, is that which will be.  And that which has been done, is that which will be done.  So there is nothing new under the sun." 
Solomon was pretty wise, wasn't he?  He knew that rejecting knowledge, was rejecting God.  People are perishing every second of every day.  And they're not only perishing physically, they're perishing spiritually, because they've rejected God's word.  That's exactly what Satan wants, isn't it?  For you and me, and everyone, to turn our backs on the bible, and say, "I just don't have time".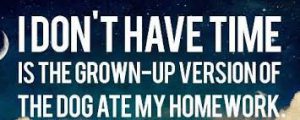 No Time For God
When we refuse to read God's word, Satan wins the battle.  If we "don't have time" for God, we'll spend eternity with the devil.  Truly, Satan's greatest weapon, is man's ignorance of God's word.  This life is very, very short.  Even if you live to be a hundred, "you are but  a vapor, that appears for a while, and then vanishes away".  James 4:14 
Eternity is hard to grasp.  We just can't imagine what it will be like, for "right now", to go on eternally.  You see, there's no TIME in eternity, and so there's no past, and no future, everything is right now.  But "right now" goes on eternally.  What will ETERNAL life be like?  What will eternal punishment be like?  I can't imagine because all I've ever known is "time".  Things for me, have always had a beginning, and have always had an end.  But that's not so with eternity.  And I find that difficult to fully understand, don't you?
Right NOW, is the time that God has given us.  If we don't "make time", for God now, there will be no time for God, in eternity.  There will only be "everlasting destruction, from the presence of the Lord, and the glory of His power".  2 Thess 1:9
Knowledge Leads to Salvation
We're told in 1 Tim 2;4, that God,  "Desires all men to be saved, and to come to the knowledge of the truth." 
Romans 10;17 tells us that,  "Faith comes by hearing, and hearing by the word of God."
There can be NO faith, without coming to the knowledge of the truth, by hearing the word of God.  It's as simple as that.  If anyone thinks that they have faith, but does not know the word of God, they are mistaken.  "Faith comes by hearing the word of God".  There is NO other way!
Jesus Himself said, speaking of His Father,  "Thy word is truth".  Jn 17:17  "Sanctify them in the truth".  To sanctify, means to "purify", and to "set apart".  1 Cor 6:11  says,  "But you were washed, you were sanctified.."  That's exactly what God does when He saves someone.  He "purifies" them by washing away their sins.   It's the blood of Christ that washes those sins away.  Heb 9:22  tells us,  "..And without shedding of blood, there is no forgiveness of sins."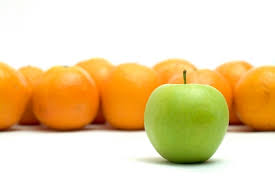 But "sanctify" also means to "set apart".  When God saves someone, He "sets them apart", by adding them to His church.  Acts 2:47  tells us,  "And God was adding to the church daily, those who were being saved."   When you become a Christian, you become "different".  You're not like the rest of the world anymore.  God says,  in 1 Peter 2:9,  "But you are a "chosen race",  a "royal priesthood", a "holy nation", a "peculiar people.."   Some bibles say, "a people for God's own possession". 
That's why God says in 1 Cor 6:19-20,  "Or do you not know that your body is a temple of the Holy Spirit who is in you, whom you have from God, and that you are NOT your own?  For you have been bought with a  price (Christ's blood); Therefore glorify God in your body."  It takes a "peculiar" person, to glorify God by their conduct, while they live in this body.    A peculiar person, makes time for God's word, both to read His word, and to live His word.
God's Word Brings Knowledge and Salvation
Yes, faith truly comes by HEARING the word of God.  And salvation comes by LIVING according to that faith.  Living your faith, is called "works" in the bible.  Please listen to this passage of scripture from the book of James…
Jas 2:14-20,  "What use it is my brethren, if a man says he has faith, but has no works?  Can that faith save him?  If a brother or sister is without clothing and in need of daily food, and one of you says to them; Go in peace, be warmed and be filled, and do not give to them what is necessary for their body, what use is that?  Even so, faith if it has no works, is dead, being by itself.  But someone will say; You have faith and I have works.  Show me your faith without the works, and I will show you my faith BY my works." 
In other words, you can't see someone's faith, unless you see the works that are the natural result of that faith.  And so the writer says; "Show me your faith without the works".. Go ahead and show me!
Now continuing in V-19,  "You believe there is one God, you do well; The demons also believe and tremble!  (the demons refuse to DO the woks, that God commands us to do.  they have every reason to tremble!)  But are you willing to recognize, you foolish fellow, that faith without works is useless?"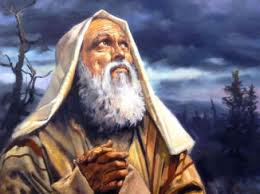 Abraham is called "The father of the faithful", and God holds him up as an example to us.  in V's-21-23  it says,  "Was not Abraham, out father, justified by works, when he offered up Isaac his son on the alter?  (Gen chap 22)  You see that faith was working with his works, and as a result of the works, faith was perfected, and the scripture was fulfilled which says; And Abraham Believed God, And It Was Reckoned To Him As Righteousness…   and he was called, The Friend Of God."
V-24  is a summation,  "You see that a man is justified by works, and not by faith ALONE."  And V-26  tells us,  "For just as the body without the spirit is dead, so also faith without works is dead."
Here's What We've Learned
#1.  God requires you to have knowledge of His word
#2.  Some people are content to remain willfully ignorant of God's word.  (Kind of like sticking your head in the sand)
#3.  God desires ALL to be saved.  That's why He gave us His word of truth.
#4.  We can be sanctified by the word of truth.  That means to be purified, or washed of our sins, and it means to be set apart in His church.
#5.  The knowledge of His word can bring salvation, IF it is coupled with "works".
#6.  The "works" that we must do, is to obey everything God has said.  (Just like Abraham did)
#7.  If we obey everything God has told us to do, then we will be justified (just like Abraham was justified), and our "belief" will be reckoned as righteousness.  (Righteousness IS the keeping of God's commands)
You didn't realize that we learned so much here today did you?
Did You Understand That ?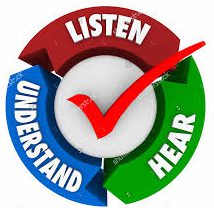 Now it's time to make a point.  How much of what we just read from the bible did you understand, and how much didn't you understand?  Wasn't it ALL easy enough to understand?  God didn't talk in "riddles" or anything like that.  God's word is very plain, and very straightforward.  Most people really need only the help of a "finger to guide them", to know where to look in the bible, for the answers to their questions.  And that's exactly what I hope to do here; to guide you to the verses of the bible that will answer all your spiritual questions. Here's three things to remember about the bible.
#1.  The bible begins by telling of the creation of ALL things, including man.  And then it tells of man's fall into sin, and his continual spiral downward, until the bible says, "Every intent of the thoughts of his heart was only evil continually".  (Gen 6:5)  And then very quickly, it tells of the removal of sin from the world through the great flood.
#2.  Then the rest of the Old Testament tells of man's continual refusal to listen to God's word, and of God's redeeming process that would be brought about through the nation of Israel.  And it predicts the coming Messiah, who would eventually save the people of their sins.  It gives us many stories that serve to teach us about God's nature, and about man's nature.  And these stories serve as examples to us.  Some serve as examples for us to follow, and some as examples of what not to follow.
#3.  Then the New Testament tells of the arrival of that Messiah, who is Jesus the Christ.  (Christ and Messiah mean the same thing.  Messiah is Hebrew, and Christ is Greek)  And within the pages of the New Testament, God explains in detail, What we MUST DO to be saved.  That's it. It's really quite simple.  God's only request is that we hear the word, believe the word, and obey the word.
"For He has told you O man, what is good.  And what does He require of you, but to do justice, to love kindness, and to walk humbly with your God?"  Micah 6:8
God Wants To Save Us
God wants us all to have faith.  Faith comes by hearing His word.  But faith ALONE will only give you reason to tremble.  But faith that you SHOW by the keeping of what God tells you, is the faith that will lead you to being saved.
Remember the questions in Jas 2:14,  "What use is it my brethren if a man says he has faith, but has no works?  Can that faith save him? 
And do you remember the command in 1 Cor 6:20,  "Therefore glorify God in your body."   That's right, that's a command, it's not just some "off the cuff" statement, it's a command from God.  Glorify God in your body.  There's only one way to glorify God in your body, and that's to DO what He says to do, while you are alive on this earth. 
YOU Can Understand The Bible
Can I understand the bible?  The answer is YES, I can understand it, and YOU can understand it.  Understanding bible scriptures is really nothing  more than reading God's word, and believing it.   And we both can DO what God tells us to do, if we have faith.  But then again, faith comes by hearing the word of God.  If we won't take the time to read the bible, and to listen to the bible, how can we expect to understand it and come to faith?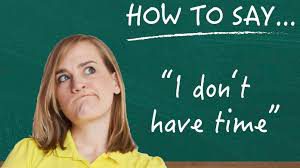 My prayer is that everyone will TAKE the time to know God's word, and to LIVE that word.  Thank you so much for being here and considering these things.  If you have any questions or comments, please let me know by going to the comment area below.  May God bless you in your study of His word.