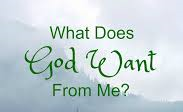 Two Things God Wants From You
I want to talk about just two things, that God wants from you, as individual.  If we wanted to, we could put those two things into just one category.  And that one category would be, our love.  What God wants from you, and what God wants from me, is our love.  If we fully gave our love to God, we'd be giving Him everything, that we could possibly give.
It's just like when Jesus gave the two commandments, which entail every other commandment that there is.  Jesus said, in  Mathew 22, verses 37 thru 40;  "Thou shalt love the Lord thy God, with all thy heart, and with all thy soul, and with all thy mind.  This is the great and foremost commandment,  And the second, like unto it, is this;  Thou shall love thy neighbor as thyself.  On these two commandments, hangeth the whole law and the prophets."  
Some versions say;  "The whole law and the prophets "depend" upon these two commandments".    There isn't a law of God that has ever been given, that doesn't depend upon either love, for either it's existence, or it's fulfillment.  The law of God exists, because of the love of God for us, and the law is fulfilled, because of the love we have, for God.
In  Acts 17, verse 28,  the bible talks about our relationship to God;  And it says;  "For in Him (in God) we live, and move, and have our being." (we have our existence)   Well, that's what the relationship is between love, and every commandment that God has ever given.  All these commandments have their very existence, only because of love.  If you were to take away the love, every other commandment would fail.  Without originating out of love, no other commandment can be fulfilled.  All of God's commandments, "hangeth" and "depend", upon love for God, and love for man.
But, let's break down that love, into two categories, just two, of the several aspects of love.
Love is Patient
Our first aspect of love, is patience.  You've heard it said, that "patience is a virtue".  Well it's true, patience is a virtue, because it's a component of love.   1 Corinthians 13, verse 4  says;  "Love suffereth long.."  God wants patience, from us.  He wants longsuffering.   God wants you, (and me) to be patient with Him!  How can we be patient with God, you might ask?  Well, God doesn't usually do things according to our time schedule, does He?
Isaiah 40, verse 31  says;  "But they that wait for Jehovah, shall renew their strength.."  Have you ever prayed to God, and asked for something?  I'm sure you have.  And when did you want the blessing that you prayed for?  You probably wanted it right then, didn't you?  Not ten years later, but right now.  But God evidently doesn't use the same calendar we do.
How long did Israel wait for the Messiah?  From the time the promise was given to Abraham, they waited over 2000 years.  The Messiah didn't come, when Israel wanted Him to come.  Yet we're told in  Galatians 4, verse 4;  "But when the fullness of time came, God sent forth His Son;  Born of a woman, born under the law."  
Some people are tired of waiting for Him to come again.  And we're told in  2 Peter 3, verses 3 & 4;  "..in the last days, mockers will come, with mockery, walking after their own lusts, and saying;  Where is the promise of His coming?"  
But Peter tells us, in  verse 8;  "But forget not this one thing, beloved, that one day is with the Lord, as a thousand years.  And a thousand years, as a day."  God wants you and I to be patient with Him, because after all, it's not us who knows what's best.  It's not even within us, to direct our own steps.  (Jeremiah 10:23)
James 1, verse 12  tells us;  "Blessed is the man that endures temptation, for when he has been approved, he shall receive the crown of life, which the Lord has promised to them that love Him."   You see that..  Those who love God, will have patience, and will endure.   Patience is a component, of love.  And that's one of the things that God wants from all of us.
And what about patience with each other?  Do you think God wants that from you as well?  Does God want you to be patient with me?  And does He want me, to be patient with you?  Of course He does.  That's the second greatest commandment, that's like unto the first.  "Thou shalt love thy neighbor as thyself."   If we claim to love one another, we truly need to be patient with one another.  
I'll make you a deal;  I won't give up on you, if you don't give up on me.   1 Corinthians 13, verse 7  says that love;  "bears all things, believes all things, hopes all things, endures all things."   Verse 8  simply says;  "Love never fails".
Love is Displayed Through Loyalty
Here's a second aspect of love, that God wants from you, and from me;  God wants our loyalty.  Loyalty to Him, above all.  Remember what the very first, of the ten commandments was?  "Thou shall have no other Gods before Me!"  Exodus 20, verse 3.   And of course that great and foremost commandment given by Jesus;  "You shall love the Lord thy God, with all your heart, and with all your soul, and with all your mind."  That's loyalty..  The Lord comes first!   "Seek ye FIRST, the kingdom of God, and His righteousness..",  Mathew 6:33.   
If you claim to love God, then your loyalty will be to Him, before anything else, in this world.  Even before family members.  Before husbands, and before wives, and before children, and before parents.  If there was ever a choice that had to be made, between loyalty to God, and loyalty to someone else, your choice had better be, loyalty to God.  And if God doesn't comes first, even before your closest family member, or before your closest friend on earth, then you can say goodbye to salvation.  If you were to love yourself, more than God, you can say goodbye to salvation.
That's a tough one isn't it?  But it's true.  Jesus said, in  Luke 14, verse 26;  "If any man cometh to Me, and does not hate his own father, and mother, and wife, and children, and brethren, and sisters, yea, and his own life, he cannot be My disciple."   
That's quite a statement!  But don't get confused by the word "hate" in that verse.  The meaning of the word "hate" is determined by the context in which it's used.  And in this context, the meaning is one of comparison.  It means to renounce one, in favor of another.  And that's the way it has to be.  God has to absolutely come first.  You must be absolutely willing to say, that even the person who's the closest to you on this earth, does not occupy a place, ahead of God!
No matter how much we love our family, our husbands and wives, and children and parents, we must love God more!  It has to be that way, or we cannot be Christ's disciple, and we cannot be saved.
What Does Loyalty Involve ?
But what's actually involved, with being loyal to God?  Does that just mean that you affirm everyday in your mind that God comes first?  Isn't loyalty more than just a mental affirmation?  Isn't it just the same as believing in Jesus Christ.  Believing is more than just a mental affirmation, or acknowledgment, that Jesus is the Christ.  Believing, in Jesus, is doing what Jesus says to do.  And that's what loyalty to God is.  It's doing, only, what God has commanded, and, only what He has given you permission, to do.
You don't hear the word "permission" being used very often, concerning God.  You'll hear the word "authority", and the word "authorization".   For example, we're told in  Mathew 28:18,  that Jesus has been given "all authority in heaven and on earth".  And having "all authority",  Jesus, through His Holy Spirit, has given us permission to do certain things, and He has withheld His permission, from doing other things.
Being loyal to God, is being loyal to the book that God has given you.  The book which grants permission, and which withholds permission.
Here's something I'd like to point out about the bible.  When it comes to loving God, and when it comes to loyalty to God, and to His word, there's actually very little in the bible, that directly relates to how we treat God Himself.
Consider the things that you do in your life which are directedly aimed toward God.  Those things would include praying directly to God, and directly worshipping God, and studying God's word, to more perfectly learning His will for you.
What else can you think of that you do in your life, which is specifically directed toward God Himself?  I don't think there is anything else. Everything else which we do in our lives, is directed either toward ourselves alone, or toward other people.
The majority of what God allows, and what He doesn't allow, has to do with how we interact with one another.  And so aside from our prayers to God, and our worship of God, our loyalty to God, is displayed mostly, in how we treat one another.
Think about that for a minute.  Your loyalty to God, is openly shown, by how you treat other people.  We're given a pretty straightforward command in  Galatians 6, verse 10.   Here's what it says;  "So then, as we have opportunity, let us work that which is good, toward all men, and especially toward them who are of the household of faith."   Those who are of the household of faith, are other Christians.
Measure Your Loyalty
How loyal are you to God?  Here's how you can measure your loyalty to God;
#1.  What are my prayer habits?  How often do I pray?  How sincerely do I pray?  How thankful am I in prayer?  Or, am I not loyal enough to "pray without ceasing", as the bible says in  1 Thessalonians 5:17.   And to "give thanks to the Father, through Him", (through Christ) as it says in  Colossians 3:17.
#2.  What are my worship habits?  How faithful am I, in attending the worship assembly?  Do I make sure that I am truly taking part in the worship assembly?  Or am I simply "there" in body, but not a participant in spirit?  Jesus said that we must "worship in spirit and in truth",  John 4:24.   
We need to assemble, faithfully, and loyally.  We need to worship, faithfully, and loyally.  And that requires us to be an active participant, in every act of worship.  We must be engaged in the prayers.  We must be engaged in the singing.  We must be engaged in the giving.  We must be engaged in the Lord's supper.  And we must be engaged scriptures are read, and when sermons are delivered.  And if we're not engaged in all of those worship activities, then we're not being loyal and faithful to God.
#3.  What are my bible study habits?   Do I attend congregational bible study?  Do I open my bible at home, and actually study it?  Or do I not have the time, for of those things?   Am I loyal to God, in following His command to "Be diligent to show yourself approved unto God, a workman who needs not to be ashamed, correctly discerning the word of truth" ?   Or am I loyal only to myself ?
#4.  What is my relationship, with my acquaintances, with my friends, and with my brothers and sisters in Christ?  Am I there to help, and support, in whatever manner in which I can support, those who need my support?
Here's a verse that I don't hear quoted very often..  Proverbs 3, verse 27;  "Withhold not good, from them to whom it is due, when it is in the power of thine hand, to do it."   Did you know that "To him therefore that knoweth to do good, and doeth it not, to him it is sin."?  Did you know that?  That's exactly what the bible says in  James 4, verse 17.  
Being loyal to God, is being loyal to others.  Supporting other people, and having "good" done to them, is something that is "due" to everyone.  And who is more deserving, of your support, and of your loyalty, than your fellow brothers and sisters in Christ?  Once again, I'll quote  Galatians 6, verse 10;  "So then as we have opportunity, let us work that which is good, toward all men, and especially toward them that are of the household of faith."   
Be patient with God, and in your patience, be loyal to God.   Remember the words of Isaiah 40, verse 39;  "But they that wait for Jehovah, shall renew their strength."  
And be patient with others, and be loyal to others.   Galatians 6, verse 9  says; "And let us not be weary in well-doing, for in due season, we shall reap if we faint not."