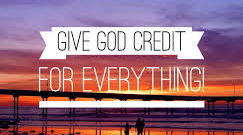 Do you think that you give God enough credit?
Acts 17:25  says;  "He Himself gives to all, life, and breath, and all things."   You could call this a lesson on thankfulness, but I'm calling it "Giving God the Credit"
When I first started reading the bible as an adult, I remember that I was struck by the fact that a lot of sayings that you hear from day to day, actually come from the bible.  So I realized that it wasn't man that was smart enough to come up with these sayings, but it was God.  I realized then, that I had to start giving God more credit.
Psalm 127, verse 1  says;  "Unless the Lord build the house, they labor in vain who build it.  Unless the Lord guards the city, the watchman keeps awake in vain."   We don't always realize just how important God is, and how integral He is, to everything!   Maybe the reason that God is such an integral part of every THING, is because God is every WHERE.
Psalm 139:7 thru 10  says;  "Where can I go from Thy Spirit?  Or where can I flee from Thy presence?  If I ascend to heaven, Thou art there.  If I make my bed in sheol, behold Thou art there.  If I take the wings of the dawn, If I dwell in the remotest part of the sea, even there Thy hand will lead me, and Thy right hand will lay hold of me."  
God's Spirit is everywhere isn't it?  And God SEES everything.  Hebrews 4:13  tells us;  "And there is NO creature hidden from His sight.  But all things are open and laid bare to the eyes of Him with whom we have to do."   Psalm 33:13 & 14  says;  "The Lord looks down from heaven, He sees all the sons of men.  From His dwelling place He looks out on all the inhabitants of the earth." 
Proverbs 15:3  tells us;  "The eyes of the Lord are in every place, watching the good and the evil."
We're told in  Psalm 139:1 thru 4;  "O Lord, Thou hast searched me, and known me.  Thou dost know when I sit down, and when I rise up.  Thou dost understand my thoughts from afar.  Thou dost scrutinize my path, and my lying down, and art acquainted with ALL my ways.  Even before there was a word on my tongue, behold O Lord, Thou dost know it all!"
And everything BELONGS to God.  Psalm 24:1  says;  "The earth is the Lord's, and ALL it contains;  The world and those who dwell in it."   Psalm 50:10 & 11  tells us;  "For every beast of the forest is Mine.  The cattle on a thousand hills.  I know every bird of the mountains, and everything that moves in the field is Mine."
We need to give God the credit that he deserves!  Psalm 33:6 thru 12  says;  "By the word of the Lord the heavens were made, and by the breath of His mouth, all their hosts.  He gathers the waters of the sea together as a heap;  He lays up the deeps in storehouses.  Let all the earth fear the Lord!  Let all the inhabitants of the world stand in awe of Him!  For He spoke, and it was done.  He commanded, and it stood fast.  The Lord nullifies the counsel of the nations.  He frustrates the plans of the people.  The counsel of the Lord stands forever.  The plans of His heart, from generation to generation.  Blessed is the nation whose God is the Lord.  The people whom He has chosen for His own inheritance."
Have you ever experienced anything "good" in your life?  That's a silly question isn't it?  Of course you've experienced "good things".   Well,  James 1:17;  "EVERY good thing bestowed, and EVERY perfect gift is from above, coming down from the Father of lights, (the exact wording there is, "the Father, the light".  Just like Jesus is "the light", so is the Father, "the light")  with whom there is no variation nor shadow of turning."  
And  verse 18  says;  "In the exercise of His will, He brought us forth by the word of truth, so that we might be, as it were, the first fruits among His creatures."   If we were to give God, the credit that He is due, we would owe Him our life and our very breath.   And that's exactly what it says in  Acts 17:25;  "..since He Himself gives to all, life and breath and all things."  
And  verse 28  says;  "For in Him we live, and move, and exist!"   God couldn't be, any more integral to our lives than that!
We just simply take far too much for granted.  Our everyday language, the words we speak, reflect the words of God, even when we don't realize it.
I was talking to a neighbor of mine one day.  He's a rancher, and he puts up a lot of hay.  And we were talking about the fact that it was time for him to start haying.  And he said;  Yep, we better make hay while the sun shines.  And then he said;  You know, someone ought to make a saying like that!   Well, someone did make a saying like that.  I don't think that exact saying came from God, but it was surely derived from what God said.
Here's what Jesus said in  John 9:4;  "We must work the works of Him who sent Me, as long as it is day;  Night is coming when no man can work."   That's pretty good advice isn't it?  So I imagine some famer somewhere, simply adapted the idea of "making hay while the sun shines", from that advice from Jesus, to "work while it is day".  
Here's a little scenario;  If a child does something wrong to someone, their mother might tell them;  That's not nice; Don't treat them like that.  How would you feel if someone treated you like that?   Well, that mother is just reiterating the thoughts of another saying of Jesus.  This one is from  Mathew 7, verse 12;  "Therefore however you want people to treat you, so treat them;  For this is the law and the prophets."   That's the "Golden Rule" isn't it?  
Speaking of  "the law and the prophets", remember what Jesus said about "fulfilling the whole law and the prophets"?   Jesus said;  "You shall love the Lord thy God, with all your heart, and with all thy soul, and with all they mind.  This is the great and foremost commandment.  The second is like unto it;  You shall love thy neighbor as thyself.  On these two commandments, DEPEND the whole law and the prophets."   Mathew 22:37 thru 40.   If you fulfill these two commandments, you've fulfilled the whole law of God!
That's a saying of Jesus, that we all need to live by!   "On these two commandments, DEPEND the whole law and the prophets."
You know what's truly interesting, and I guess a bit ironic too?  Even most atheists believe in living according to the sayings of God.  Isn't that a bit odd?  They claim to not even believe that God exists, but yet they advocate living by the very sayings of God, and the morals that God has established!
Here's a case in point.  You might remember me telling you about this before, but I think it's worth telling again.  There's a man named Truman Bolinger, a self-proclaimed atheist.
I know Truman, he was raised here in this area, but he lives elsewhere now.  About 2 years ago, he sent a pretty large folder to the church here, laying out his views as an atheist.  In the folder, he included a list of 19 things that he believes should govern the lives of all people, they were his "morals" and "values" you could say.  So, here's the list of those 19 things that an atheist says we should live by.  And the ironic part is, that 18 of the 19 things he lists, come directly from the bible, and 17 of them from the new testament.  Yet he claims to be an atheist.   Here his list..
#1.  Do not murder.   You'll find that in  1 John 3:15,  as well as other places.
#2.  Do not steal.   You'll find that in  1 Corinthians 6:10
#3.   Take care of your body.   1 Timothy 4:8,  1 Corinthians 6:19
#4.  Be temperate.   Philippians 4:5
#5.  Love and help children.   Mathew 19:14    
#6.  Honor and love your parents.   Mathew 19:19
#7.  Seek to live with truth.  1 Corinthians 13:6
#8.  Don't be promiscuous.  1 Corinthians  6:15 thru 20
#9.  Set a good example.  1 Timothy 4:12
#10.  Be industrious.  Ephesians 4:28
#11.  Do not harm a person of good will.  Galatians 6:10
#12.  Don't do anything illegal.  1 Peter 2:13
#13.  Safeguard and improve your environment.  Genesis 1:28    I had to go to the old testament for that one.
#14.  Be worthy of trust.   Colossians 3:9 & 10
#15.  Fulfill your obligations.  Mathew 5:37
#16.  Be competent.   Romans 12:11
#17.  Respect the religious beliefs of others.    ???     Respect the person surely, but do NOT give respect to false teachings.   And you'll find THAT, in  2 John 10 & 11.  
#18.  Try not to do things to others, that you would not want them to do to you.   Luke 6:31  The "Golden Rule" again.
#19.  Support a government for all the people.   Mathew 22:21
So then, there's the "moral compass" of an otherwise learned man, who isn't even learned enough to know where his morals come from.   MORALS come from God!   If it weren't for God, no man, would have even the slightest idea of what morals are.   "The fool has said in his heart, there is no God!"   Psalm 14, verse 1.  
We need to live by the morals of God, and according to the sayings of God.  "The law of the Lord is perfect, restoring the soul.  The testimony of the Lord is sure, making wise the simple.  The precepts of the Lord are right, rejoicing the heart.  The commandment of the Lord is pure, enlightening the eyes."   Psalm 19:7 & 8.  
"The fear of the Lord is the beginning of knowledge.."   Proverbs 1, verse 7.   "The fear of the Lord is the beginning of wisdom, and the knowledge of the Holy One, is understanding."   Proverbs 9, verse 10.
Here's a bit of wisdom..  "When there are many words, transgression is unavoidable.  But he who restrains his lips is wise."   Proverbs 10:19.   James wrote;  "But let everyone be quick to hear, slow to speak, and slow to anger."   James 1:19.   "For the anger of man, does NOT achieve the righteousness of God."  Verse 20.   
How about this?   Proverbs 16:18  says;  "Pride goeth before destruction, and a haughty spirit before a fall."   Proverbs 11:2  says;  "When pride comes, then comes dishonor.  But with the humble is wisdom."   Verse 4  says;  "Riches do not profit in the day of wrath, but righteousness delivers from death."  
"For the love of money is the root of all sorts of evil.  And some, by longing for it, have wandered away from the faith, and pierced themselves with many a pang."   1 Timothy 6:10.
These are some pretty wise sayings from God, if we'd just learn to live by them.  They're principles that we NEED to live by, IF we're going to be saved.
I'm sure that I've already told you about the man who questioned me, concerning WHY I kept going to the old testament, and quoting verses, when I contend that we live under the new covenant laws, and not the old covenant laws.  Well, he, along with so many others, fail to understand that there are many, many eternal principles, recorded in the old testament part of the bible, that are not a part of the old covenant laws.   They are ageless sayings and principles revealed by God, which are laws that apply to  ALL ages!   And we need to allow ALL of these godly principles, to guide us in our lives today.   Remember what Jesus said;   "Heaven and earth shall pass away, but My words will NOT pass away!"
We need to KNOW God's words, and His sayings, don't we?   Proverbs 11:14  says;  "Where there is no guidance, the people fall.  But in the abundance of counselors, there is victory."   God's words should be  our "counselors".   They need to guide us wherever we go.   It says in  Psalm 119:105;  "Thy word is a lamp to my feet, and a light to my path." 
Jeremiah tells us that;  "..a man's way is not in himself, nor is it in a man who walks, to direct his own steps."   Jeremiah 10:23.   We need GOD to direct us.  Proverbs 16:2 thru 4  tells us;  "All the ways of a man are clean in his own sight, but the Lord weighs the spirits."  In other words, "God weighs the motives".   God not only knows everything we do, but He knows WHY we do it.  We better give God credit, because there's nothing He doesn't know.
"Commit your works to the Lord, and your plans will be established.  The Lord has made everything for it's purpose, even the wicked for the day of evil."  
Do you know how "piercing" the word of God is?   Hebrews 4:12  says that it's..  "Living and active, and sharper than any two-edged sword, and piercing as far as the division of soul and spirit, of both joints and marrow, and able to judge the thoughts and intentions of the heart."  
"He who gives attention to the word, shall find good.  And blessed is he who trust in the Lord."   Proverbs 16: 20.
Did you know, that  "He who is gracious to a poor man, lends to the Lord.  And the Lord will repay him for his good deed."   Proverbs 19:17.   That's kind of like what Jesus said in  Mathew 25, verse 40;  "When you've done it to one of these, the least of My brethren, you've done it to Me."  
Here's something that we probably all need to remember;  "He who is slow to anger, is better than the mighty.  And he who rules his spirit, than he who captures a city."   Proverbs 16:32.   Remember what James said in  James 1:19..  "But let everyone be quick to hear, slow to speak, and slow to anger."   He said in  James 3, verse 2;  "For we all stumble in many ways.  If anyone does not stumble in what he says, he is a perfect man, able to bridle the whole body as well."  
We have just barely scratched the surface, in quoting the wisdom of God.  We could go on for hours.  But just remember, to always give God the credit that He deserves.  And He deserves credit for absolutely everything that's good.
And remember to always give Him credit for His gift of salvation through Jesus Christ, and for instructing us in the way to attain that salvation.  By hearing God's word, and by believing that Jesus is the Christ.  Romans 10:17  says;  "So then faith cometh by hearing, and hearing by the word of God."
And give God the credit for giving us the opportunity to repent of our sins.  Acts 17:30  tells us;  "God is now declaring that all men, everywhere should repent."  We have the opportunity.
And God has given us the knowledge of the importance of confessing Christ's name.  It says in  Romans 10:10;  "With the heart man believes resulting in righteousness, and with the mouth he confesses unto salvation."
And don't we have to give God the credit, for providing a way to have our sins washed away?   He tells us in  Acts 22:16;  "And now, why do you delay?  Arise, and be baptized, and wash away your sins, calling on His name."  
And remember, that baptism isn't just sprinkling, or pouring some water on someone's head.  Baptism is an immersion in water, so that it resembles a burial.   "We are buried with Christ, through baptism, into death, in order that as Christ was raised from the dead by the glory of the Father, we too might walk in newness of life."  Romans 6, verse 4.